The Scary Guy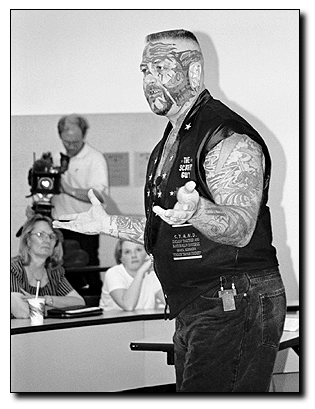 Scott Andrew Taras
Arizona Daily Wildcat
The Scary Guy speaks at McClelland Hall yesterday to prove to students that looks are only skin deep. The Scary Guy is on a mission to eliminate prejudice, hate and violence.
Tolerance, respect and pierced eyebrows.
All of these qualities could be found yesterday in the form of The Scary Guy, who brought his message of fighting discrimination and violence to the University of Arizona.
A former computer salesman, baby photographer, and tattoo artist, The Scary Guy, as he is referred to by friends, family and all legal documents, struck an imposing stance as he glided wordlessly into the room, beefy tattooed arms exposed and a steely gaze etched across his face.
"You would not believe what I hear when I walk across the streets of America," he intoned. His voice grew louder, "'I know who he is, I know what he does - he's a biker! I know who he is, I know what he does - he's a wrestler!'"
The Scary Guy paused, then flashed a smile that revealed gold-capped, rhinestone-studded teeth.
"Well I certainly look like one don't I?" he asked his audience of about 50 business students at the McClelland building.
Although The Scary Guy has a sense of humor now, he wasn't laughing two years ago when he was humiliated, solely because of his appearance, in a full-page newspaper advertisement by a rival tattoo parlor.
Upset at being insulted and referred to as just an ordinary ćscary guy,ä he turned to a friend who suggested he take pride in how his eight ear and facial piercings and continuous body tattoo make him so "scary."
This led to a legal name change, and soon the The Scary Guy persona was born.
As a vocal performance student in college, The Scary Guy, 45, is still a coveted performer who has been invited to sing the national anthem at the Kansas City Chiefs home opener this year.
Married to a professional harpist, The Scary Guy has a 21-year-old daughter, who thinks nothing of her fatherās tattoos which cover about 85 percent of his body.
At age 30, The Scary Guy got his first tattoos on his left biceps, which has since progressed to decorate nearly every inch of his body.
What isnāt exposed is covered in his own line of clothing, including the trademark "Scary Guy" vest.
His one-of-a-kind looks and passion to eradicate misconceptions based on appearance, have taken The Scary Guy across the country speaking to crowds on the importance of tolerance over judgment, discrimination and hatred.
Schools, churches, juvenile detention centers, and entire towns have invited The Scary Guy to spread his message of respect.
"People call people names, labeling, slander - which leads to hate," The Scary Guy said. "People hating each other has taken a new twist and a new turn. Littleton is an example of what Iām talking about. You think itās over?"
The Scary Guyās anti-hate, anti-violence agenda has had a profound effect on those heās spoken to before, especially children. Over 2,000 youngsters have sent him e-mails sharing the hurt they experience everyday by others who judge and tease.
But he also reaches college students.
"He has a lot of spirit," said Anoop Bhatheja, a business management senior who attended The Scary Guyās speech. "Itās refreshing to see someone with a mission that a lot of people donāt pursue because itās so overwhelming."
Some could see past his imposing physical features and understand his message.
"I donāt think heās that scary," said business management senior Ron Banat.
As The Scary Guy concluded his speech, he turned his neck to point out a scrawling design that says ćLoveä in Sanskrit characters and offered a piece of advice.
"Figure out what role you play in your own life," he said.