Sean Elliott released from hospital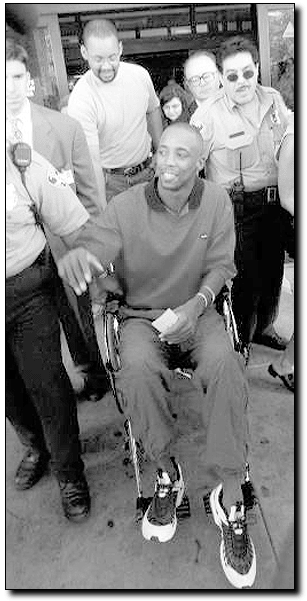 Associated Press
Arizona Daily Wildcat
San Antonio Spurs' Sean Elliott waves to fans as he is pushed in a wheelchair by his brother, Noel, after being released from the hospital in San Antonio yesterday. Elliott, 10 days ago, recieved a kidney transplant which was donated by Noel.
Former UA basketball star Sean Elliott was released from a Texas hospital yesterday after his August 16 kidney transplant.
Officials at the San Antonio Methodist Specialty and Transplant Hospital said Elliott's brother Noel rolled him out in a wheelchair in good condition.
"He looks really good," said hospital spokeswoman Palmira Arellano.
Elliott, who went back into surgery Saturday for a minor complication, is now at home resting and eating solid foods. He is still taking medication.
"We're all very happy for Sean that things are going so well," said assistant coach Jim Rosborough, who coached Elliott at the University of Arizona. "Everybody has been very pleased that he's up and around and doing well."
Elliott, 31, who helped lead the San Antonio Spurs to their first NBA championship last season, received a kidney from his brother Noel, 32, last Monday.
"Our whole crew has been very concerned for Sean," Rosborough said.
Elliott, along with Spurs teammate Steve Kerr, led the 1988 Wildcats to the first Final Four appearance in school history.
Rosborough said the most important thing for Elliott is that he gets his health back and lives a long and happy life.
For the past seven years, Elliott has had focal glomerulosclerosis, a condition that prevents the kidneys from properly filtering waste from the blood and can lead to failure of both kidneys. While both of Elliott's kidneys still have a minimal level of functioning, he would have required dialysis had he not received the transplant.
Anxious fans in both Tucson and San Antonio wait for a full recovery and word of whether or not Elliott will be able to return to the NBA.
Dr. Francis Wright, who performed the transplant operation, said Elliott will need to severely limit his physical activity for six to eight weeks to allow the incision to heal. Wright said it could then take another several months of recovery before he could begin any strenuous activity.