New facility expected to help university police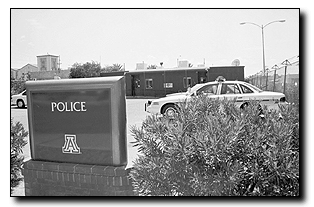 Scott Andrew Taras
Arizona Daily Wildcat
The University of Arizona Police Department, located at 1200 E. Lowell, was built in 1986 to temporarily house UAPD employees. The new building is being constructed at East First Street and North Mountain Avenue.
By Ty Young
Arizona Daily Wildcat,
August 26, 1999
As work begins on the new university police station, students can add another area to the list of UA construction zones.
University of Arizona police have waited nearly 13 years for the new facility, which will be located on the corner of East First Street and North Mountain Avenue, and said they are looking forward to its potential.
"We expect this to improve our communication and effectiveness. It'll give every member on the force a greater degree of professionality," said Sgt. Michael Smith, a UAPD spokesman.
The current campus facility, located at 1200 E. Lowell St., was created to temporarily house campus police in 1986. The existing structure will be displaced by the planned East Sixth Street parking structure.
According to a UA Facilities Design and Construction statement, the square footage of the existing police department is in the bottom 25 percent of the 23 peer universities surveyed.
The new single-story brick structure will be 15,000 square feet and include a walled parking lot for 24 UAPD vehicles. The lot will extend south along North Campbell Avenue to the corner of East Second Street.
The new facility was designed by Burns and Wald-Hopkins Architects Inc. and is being built by Lloyd Construction for about $2 million.
"We're excited that it will be created by people who have worked with other police departments," Smith said. "It will also meet our unique needs."
Rick Marsh, construction project manager, said he expects the structure to improve community service areas, increase security and provide adequate square footage.
So far, construction has been on schedule.
"We have an ambitious schedule, and we are going to finish this on time," Marsh said.
He added that unforeseen and uncontrollable problems may occur, but as of now the opening is scheduled for mid-February.
"Everybody went through a diligent process to stay on budget but still provide a modern, campus-friendly police department," said Tom Warren, co-project manager.
The community members - mostly fraternities, university buildings and small businesses - said they have no concerns with the eventual increase of police in the area.
"I think it'll be good. The increased visibility (of UAPD) will help safety for all in the area," said Dirtbag's owner Gary Welch.
Those most strongly affected may turn out to be the nearby greek houses. However, those fraternity members questioned did not seem very concerned.
"With the changing greek system, the party aspect will not be greatly affected. We'll have to be more reserved in our daily lives though," said James Harrigan, a management and informational systems junior, and a member of the Phi Delta Theta fraternity.
"It's one of the final parts of the eastern edge of campus," Warren said. "We feel that the design will be aesthetically pleasing for the people in the area."