A night of love with a side of Special Sauce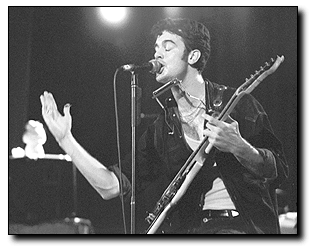 Karen Tully
Arizona Daily Wildcat
G. Love and Special Sauce performed Tuesday night at the Rialto Theatre, 318 E. Congress St. Seattle jazz-soul band Maktub, opened for G. Love.
By Ty Young
Arizona Daily Wildcat,
August 26, 1999
Tuesday night at Tucson's Rialto Theatre, G. Love and Special Sauce - fresh off a performance at Woodstock - showed why they are considered one of the most innovative and popular bands currently on tour.
It could have been the air temperature in the historic Rialto Theatre, 318 E. Congress St., or maybe the electric atmosphere, but either way the show was hot. Out of the nearly sold-out crowd, three, maybe four people actually chose to sit down.
"It was awesome! One hell of a show!" exclaimed engineering freshman Chris Cobb.
G. Love and Special Sauce displayed their hip hop, blues style in dramatic fashion. They followed their one hour set with a seven song encore that drove the audience wild.
Lead singer and guitarist G. Love expressed his great appreciation for the crowd by playing three solo encores, then invited the rest of the band out for a few more.
When asked about his opinion about Tucson, Love responded, "I like Tucson. It's got a good vibe."
The audience proved that as they grooved with the music for nearly two hours. Apparently, the response in Tucson was much better than that at the Phoenix show the night before.
"Last night was nothing like this. The crowd was not into it. He (G. Love) left after one encore song," said fine arts major Jake McLaughlin.
Although this was called the "Philadelphonic" tour, the band played only a few songs from their new album. The show was certainly not an advertisement for their current release.
Starting the night off with "Dreamin' Time," G. Love progressed through their upbeat hip hop songs that had the crowd grooving. On "Rock 'n' Roll Shouts Out Back to the Rappers," G. Love displayed his rapping skills while paying homage to performers such as the Beastie Boys, Biz Markie and Snoop Doggy Dog.
Midway through the set, the band played their most popular radio song "Steppin Stone" which gave way to a great crowd response.
"They're fresh and hip," said undecided freshman Brooke Burns.
However, the most impressive part of the act occurred during the half-hour long encore. G. Love enticed the crowd with upbeat songs like "Baby's Got Sauce" and "Fire on the Mountain."
After the show, the band signed autographs for a surprised and star-struck audience. One girl actually received a kiss on the cheek from drummer Jeffrey "Houseman" Clement, after which she cried emotional tears of joy.
It was obvious the band - who last played in Tucson on Valentine's Day 1995 - loved and admired the crowd for their presence.
"Man it's hot, but I like the vibe," Clements said after the show.
G. Love and Special Sauce also showed their blues side as well. On "Garbage," Love used his microphone to slide through his guitar notes. He also incorporated a harmonica in many other songs.
"It was a good show. He jammed and played a great harmonica. I've never seen him do that before," said marketing freshman Jon Zoob.
Seattle jazz-soul band Maktub warmed up the crowd. Using slick keyboards and impressive vocals, the band was the perfect opening act.
Their lead singer staged a three minute beat-box "Dichotomy" that sent the crowd in a frenzy. After the final song, "Lies," the crowd was well prepared for the main act.
"It's been awhile since we've been here," said G. Love.
Hopefully, it'll not be too long before they come back.