CatFest '99 showcases variety of local bands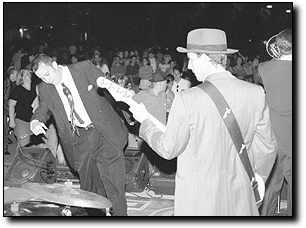 Wildcat File Photo
Arizona Daily Wildcat
Hipster Daddy-O and the Hand Grenades, a Tucson-based swing and rockabilly band, is just one of those featured in this year's CatFest. The group has been played on radio stations across the country and in Canada and have released two CDs on Tucson's own Slimstyle records.
By Annie Holub
Arizona Daily Wildcat,
August 26, 1999
The grass on the UA Mall is green, the heat has sizzled the day into a hazy memory and we have survived the first week of school.
What better way to commemorate this grand occasion than Rising Star Entertainment's annual CatFest?
CatFest, from 5 p.m.-10 p.m. tomorrow, brings some of the funkiest local bands, as well as free food and sumo wrestling, to the UA Mall. It's a chance for new freshmen and old freshmen to try a sampling of fun, UA-style, as well as get to know some Tucson bands. Last year, CatFest brought Blink 182, a larger national act to the Mall, but this year, they wanted to do something different by giving the festival a local focus.
"I think it's a great way to get people acquainted with the Tucson scene," said Madeleine Thomspon of Rising Star, a committee of the University Activities Board.
Thompson said that in addition to the four bands performing - Neon Prophet, Groovebox, Greyhound Soul and Hipster Daddy-O and the Hand Grenades - there will be free pizza, carnival games, KAMP Student Radio DJs spinning music in-between the bands, and yes, sumo wrestling. And to top it all, it's all completely free.
Neon Prophet, the first band to take the stage Friday night at 6 p.m., have been Tucson regulars for longer than most college students have been in school.
"We've played the Chicago Bar every Thursday and Saturday for the last 15 years, and that's gotta be a world record," said bassist and vocalist Jamie Cirrito.
Especially since Neon Prophet is not your typical bar band.
"(We're) basically a reggae band," Cirrito said. "(But) not just your garden-variety reggae band. We span many different styles - kind of an American mixture."
Although Neon Prophet certainly has played a lot of shows, they're excited to be a part of this year's CatFest lineup.
"We definitely want to introduce our music to this years' students," Cirrito said. "(CatFest) seems like an ideal way to do that."
Neon Prophet is composed of Cirrito, David Dean on lead vocals, Xavier Marquez on guitar, Plato T. Jones on percussion, Troy Hill on drums and Steve Abramson on keyboards. They have released 2 CDs; one self-titled, the other called Reggae Party. Both are available at Zia Records, Cirrito said.
Groovebox, who will be performing second, are anything but new to the UA scene. They've played numerous shows on the Mall and in the cellar, and are also looking forward to introducing their sound to a whole new generation of students.
"Our music... strikes a chord (with) a lot of people in the college-age group, which most of us are," said bassist Ron Malleis, a graduate of the UA.
Groovebox defines their sound as "improvisational rap or hip hop," with influences "from blues to rock to jazz kind of a mulligan stew of styles," Malleis said.
"It's a pretty modern sound," he said. "We've always had a good response. MC Phooka 1, even when he's freestylin', his lyrics, if you listen carefully, are pretty deep. Makes you think about the world we're living in."
Groovebox consists of Malleis, MC Phooka 1, drummer Aaron Chisena, guitarist Darren Dille, and DJ Bonus One.
Following Groovebox will be Greyhound Soul, another longtime member of the Tucson music scene. Greyhound Soul has been around for about four and a half years, said Duane Hollis, who plays bass in the band. During that time, the band has played shows in Tucson, Phoenix, California and Texas, and has opened for the Refreshments at CatFest two years ago as well as other more well-known groups like Yo La Tengo.
Hollis described Greyhound Soul as "just a rock and roll band, maybe with a little '70s and country influence."
Greyhound Soul have a new record which should be coming out soon entitled Roll On, which features several interesting guest drummers. Winston Watson played drums with Bob Dylan for about five years, Tommy Larkins plays with Jonathan Richman (both were the featured musicians in last year's "There's Something About Mary"), and Bruce Halpern is the drummer for the Sand Rubies, a local band that enjoyed some fame in the early '90s.
"We have an alternating list of drummers," Hollis said.
Currently, the band line-up is Hollis, singer and guitarist Joe Pena, guitarist Jason Decorse, and keyboard player Robert Hepworth, a recent MFA in Poetry from the UA. Hepworth is living in New Mexico, and Hollis wasn't sure if he would be joining the band on Friday.
Last but not least will be Hipster Daddy-O and the Handgrenades, one of Tucson's many excellent swing and rockabilly bands. Hipster Daddy-O are probably one of the more well-known bands from Tucson - they've been played on radio stations across the country and in Canada and have released two CDs on Tucson's own Slimstyle records.
In the event of rain, CatFest will be moved indoors to the Arizona Ballroom on the third floor of the Memorial Student Union.