Albert Brooks invokes a 'Muse', not a new crowd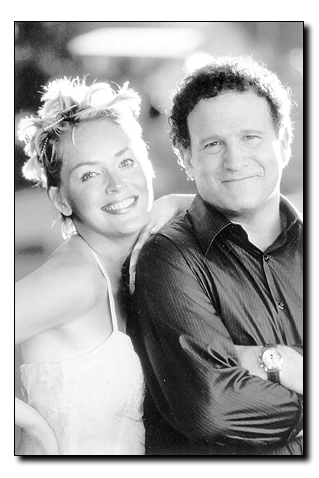 Arizona Daily Wildcat
Photo Courtesy of October Films Sharon Stone and Albert Brooks star together in his comedy "The Muse," an October Films release.
Albert Brooks' films tend to have a strong following among certain people. Critics, Hollywood types, devoted fans - they all praise Brooks and rush out to see his latest movies. Unfortunately, he hasn't been able to pull in many others over the years. "The Muse," written, directed and starring Albert Brooks, is not the film that is going to bring him a new audience.
Don't get me wrong, "The Muse" is an intelligently written, funny story about a Hollywood screenwriter who discovers he has 'lost his edge.' In desperation, he asks his successful screenwriting friend (played by Jeff Bridges), for help. He introduces him to Sarah (Sharon Stone), a genuine muse and daughter of Zeus who apparently has brought inspiration to much of Hollywood.
Brooks had a good time with this concept and was able to get some very funny cameos out of major Hollywood players such as James Cameron, Rob Reiner and Martin Scorsese.
But the movie will not draw in crowds. For one thing, few people even know who Albert Brooks is and if someone were to ask which films he's been in, the list would consist mainly of his own works, bringing them back to the initial recognition problem.
Also, as Brooks has aged, his movies have accumulated a self-absorbed feel that seems more fitting somewhere in a Woody Allen movie.
But where Allen can get away with it (having a deep-rooted following from his early funny days, and a separate sickly curious crowd looking to see which young woman he will slobber over next) Brooks manages to slip through the cracks; he remains unnoticed by any large following and (thankfully) unmarried to any step-daughters.
This is a positive point for Brooks as a person, but negative for his box office numbers.
And while his cast in general is comprised of well known actors, none of them really bring in huge audiences anymore. Sharon Stone's last gem, "Gloria," closed within weeks of its opening. Jeff Bridges now has less draw than his brother, Beau. And Andie MacDowell's toothy, Golden Retriever-like Southern smile, lost its charm about five movies ago (when she began depending on it to provide personality for her characters).
Overall, despite the good intentions, Brooks has brought together a cast that the average person would go to see, say, when it's pouring rain outside and they're standing under the awning of a movie theater that only shows "The Muse."
Which is a shame. The movie plays a little slow at times but otherwise it is very good. Stone is even amusing, hamming it up as the free loading, sleep deprived Sarah.
But, "The Muse" is almost guaranteed to close within weeks of opening. Just enough time for fans and critics to run in and see it, just enough money to entice Brooks to continue.
And perhaps using the box office, his own muse is providing just enough inspiration to keep Brooks from selling out for a larger audience.