Album Reviews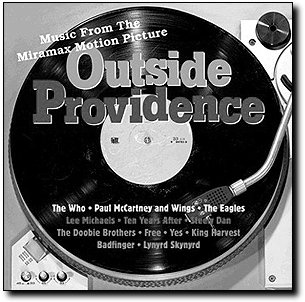 Outside Providence Soundtrack
Listening to the official soundtrack to the film Outside Providence is reminiscent of spending an entire lazy, hung-over Sunday afternoon watching VH1's "Behind The Music" series. You are vaguely familiar with all the early 70's rock bands appearing on the soundtrack, but despite your lack of interest or fascination with these old time rock acts, you become captivated and engrossed with the all too familiar story of sex, drugs, rock 'n roll, and ultimately, rehab and reunion tours.
Soon enough, you find you have spent over an hour listening to these classic 70's tunes - and enjoyed it.
With bands like The Who, Lynyrd Skynyrd, Paul McCartney & Wings, The Doobie Brothers and Steely Dan, it's easy to become lost in the compilation that, ironically, provides the musical setting to a film being pitched to those who were not even born at the time these songs were hits on American radio.
The film's screenplay itself was written by the Farrelly brothers, who, with the success of "There's Something About Mary," have made a major dent in modern American pop culture.
The highlight of the album is Lynyrd Skynyrd's magnum opus "Free Bird," and although I was nothing more than a dream when this song came out, I can't get enough of it.
The songs within are, of course, nothing new, and the soundtrack serves no greater purpose than to make it easy for classic rock fans to get their hands on a significant number of songs without having to spend a fortune on the original albums.
- Barry McGuire