Soccer team looks to break .500 this year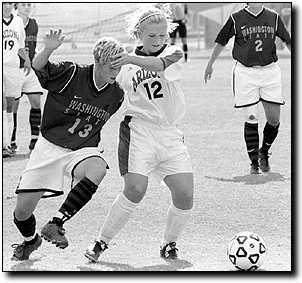 Wildcat File Photo
Arizona Daily Wildcat
Senior midfielder Megan Canaday fights off a Washington State player in the scoreless overtime tie last season. Canaday is one of two seniors returning to a team looking to finally break out of the conference basement.
By Dan Rosen
Arizona Daily Wildcat, August 26, 1999
After last season saw the UA women's soccer team win only three games, there is only one thing left to do - get better.
Not the easiest of a tasks for a program that hasn't won a game since Sept. 28 of last year, but that is the goal for this year's version of the Wildcats.
"The team atmosphere is very positive," assistant coach Bruce Caris said. "The returning players came back in great shape. They worked hard the whole summer. They are fit and ready to play."
After only four years of growing and establishing a program, the current Wildcats believe that this is the year to make a name for themselves in the ranks of collegiate soccer.
"The players have been talking a lot about the tradition starting this year. We want to go out this year and win a lot of games," Caris said.
Sophomore goaltender Shannon Monti agreed.
"We're pumped and excited," she said. "We have done a complete 180 since last year."
Despite a disappointing record in 1998 and the loss of the school's leading scorer in Nikki Jones, the Wildcats have the depth to climb up the standings and reach that goal of making a name for themselves.
"Everybody has shown leadership," sophomore midfielder Marisa Padula said. "I can't point fingers to anyone but if everyone works together, we all can contribute. It all starts with the defense and then moves from there."
Returning, are four of 1998's top five scorers in junior midfielder Brooke McManus, sophomore forward Kim McGehee, sophomore midfielder Twila Kaufman and senior midfielder Megan Canaday.
Also looking to fit in at midfield with McManus, Kaufman and Canaday, is Padula. She is coming off two ACL injuries, but is back this year and ready to play.
"I came in as an All-American and then got hurt. I was devastated," she said. "But, now I am fully back and ready to go."
The Wildcats are a young team once again this season as Canaday is one of only two seniors returning; the other being defender Michalle St. John.
"This is a young team and we may only start one, or maybe even no seniors," Caris said. "But co-captains Kate Nighswander-Will and Megan Canaday, along with goalie Inger Airheart will offer a lot of experience and guidance."
A total of 15 letterwinners return for the Wildcats, and adding to that group will be nine new faces on the 1999 squad. Of the newcomers, the Wildcats will be looking for junior Chrissy Sanford and sophomores Cassidy Guinn, Keli Stredwick and Katie Winship to provide an immediate impact on the field. All four are transfers from other college soccer programs.
Sanford was a JC All-American last year with 41 goals and nine assists, and will be under the most pressure of the four newcomers, to perform right away.
The defense for this squad is a relative unknown. Junior Lisa Haralambie, sophomore Erin Nelson and junior Ann Giallonardo are expected to start, though senior Michalle St. John should get playing time after sitting out 1998 with an injury.
The Wildcats' schedule this season does not leave much leeway for them to all get acclimated to one another as they begin their season tomorrow night at Northern Arizona. They then come back home to play Arizona State. A total of seven teams on the schedule received NCAA tournament berths in 1998.
"We have a tough schedule with a couple of top 20 teams. It is very strong," Caris said.
In the preseason Soccer American Top 20, Stanford was No. 13, Baylor was No. 19 and Brigham Young was No. 20.
In the NSCAA preseason national rankings, BYU was No. 14, UCLA came in at No. 16, Baylor earned No. 17, Stanford was No. 21 and Southern Cal took home the No. 24 rank.
The Wildcats have the depth to end there current nine- game winning streak and turn around a program that hasn't had much success since its inception. But with the upcoming schedule, it won't be the easiest of tasks.