Volleyball tackles difficult schedule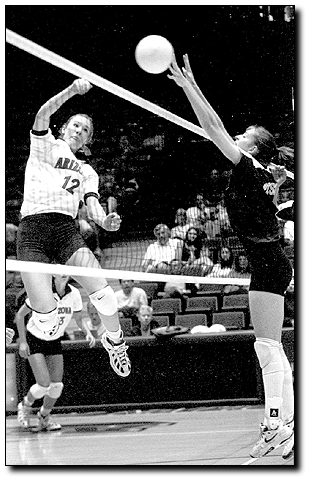 Wildcat File Photo
Arizona Daily Wildcat
Junior middle blocker Marisa DaLee spikes the ball in a UA volleyball match last season. DaLee and sophomore Dana Burkholder look to anchor the Wildcats as they take on their toughest schedule ever in 1999.
By Ryan Finley
Arizona Daily Wildcat, August 26, 1999
When the 1998 women's volleyball season came to an end at the hands of eventual national champion Long Beach State, critics and fans alike attributed it to a lack of schedule strength coupled with the extreme youth of the team.
One short year later, the word is out - the Wildcats are older, stronger and facing tougher teams. With seven matches against top 10 teams this season and the improved play of key newcomers, the Wildcats are facing one of the most pivotal seasons the program has ever seen.
Head coach David Rubio says this season's squad is one of the best and most physical teams he's ever coached. Armed with newcomers that include a high-school All-American, Rubio is anxious to showcase his talent.
Led by sophomore setter Dana Burkholder (12.46 assists per game in '98) and junior middle blocker Marisa DaLee, the Wildcats will charge their was into arguably one of the toughest schedules in the nation.
"We're taking on five of last year's top 11 teams, so we'll definitely be challenged," Rubio said. "And on top of that, we'll take on fringe top 25 teams such as San Diego and Santa Clara. We have our work cut out for us."
Assistant coach Chris Lamb agreed.
"We're as good as any other team out there," he said. "It'll be nice to be able to put some pressure on some of the best teams in the nation."
Burkholder, arguably the team leader, is coming off a season where she was named to the All-Pac-10 freshman team and netted the fourth-best single-season assists record in UA history.
"Dana is the cornerstone of our team, both physically and emotionally," Rubio said. "She is, in effect, the quarterback of this volleyball team."
Burkholder, despite being a sophomore, has earned the respect of her teammates.
"She's awesome," DaLee said. "Dana embodies the leadership qualities needed as a setter."
DaLee has been pegged by coaches as a force on the outside.
"Marisa, Dana and Alli (junior Allison Napier) need to step up for us to be successful," Lamb said. "If they can play like they're capable of playing, we'll definitely compete both in and out of conference."
DaLee, a member of the All-Pac-10 team and the conference leader in attack percentage a year ago, is one of the team's proven leaders. One of only five upperclassmen on a team with only one senior, DaLee will have to step into a leadership role as a junior.
"The freshman and sophomores need to carry their weight," assistant coach Charita Johnson said. "Girls like Marisa need to keep the team going when we struggle."
Even though they have a year of experience under their belt, youth will still be an issue for the 1999 season. The Wildcats carry six freshmen and four sophomores on a team with 16 players.
"Whenever a team is as young as we are, there are certain expectations," Johnson said. "We will struggle up and down, but if the younger players can put aside their initial fears, we should fare well in the season."
The sole senior, Raelene Elam, will see serious playing time in an attempt to solidify a team which has yet to reveal how well they can handle adversity.
"Right now, our biggest weakness is passing," DaLee said. "Passing is one of those things that each player learns as they mature. If we can improve on that this year, we'll surprise people."
The incoming freshman class is one strongest recruiting classes in the program's recent history. Ironically, all three of the freshmen on scholarship are from the San Diego area. The freshman are led by Lisa Rutledge, a 6'2 outside hitter who previously played for the highly-touted Strictly Volleyball club team of southern California and was named the 1998 San Diego CIF Player of the Year.
"The future looks good," Rubio said. "Between Lisa, Shannon Torregrosa and Stephani Saragosa, we have a solid foundation for years to come."
The Wildcats open the season on the road against Texas-El Paso next Wednesday.
They will compete without both Rutledge and Burkholder; both are competing for the Junior National Team in Saskatoon, Saskatchewan. The team will be without them for the first five matches, leaving the Wildcats thin, especially in the setter position.
Despite the loss of their team leader, the Wildcats appear unfazed.
"We'll be fine," DaLee said. "If we can compete without them here, we'll be even stronger when they come back. I have a feeling we can come together despite their absence and step up."
Freshman Melayne Wootan and sophomore Lauren Benward should split time in Burkholder's absence.