UA's Repertory Theatre debuts 'The Elephant Man'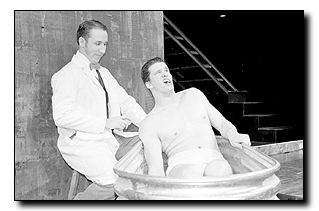 Scott Andrew Taras
Arizona Daily Wildcat
Mickey Burdick and Ross Hellwig star in "The Elephant Man." The show opens at the Laboratory Theater on Wednesday.
With four hours of rehearsals a day, three classes in which he does the homework, and two in which he grades it, how does Patrick Walsh, a UA graduate student in directing with a teaching fellowship, get a chance for any free time?
According to Walsh, he doesn't.
But all of his efforts will be worth it when "The Elephant Man" - the play Walsh is currently directing at the Arizona Repertory Theatre - makes its debut Wednesday night.
"The Elephant Man" is based on the true story of John Merrick, a brilliant man living with the scars of physical deformity.
Merrick's story is one of heartbreak and despair. He is looked upon as a freak by people who cannot see beyond the tumors that cover his head and upper body.
"By the end we want people to figure out...whether they really just look at people for what they look like or whether they try to find out something about them underneath," Walsh said.
It's a play about illusion versus reality, according to Walsh. He hopes that people will realize that deformities are actually artificial barriers people create to separate themselves from the things they cannot understand.
If the challenge to the audience is to realize this illusion, the challenge for Walsh is to make the pieces of this play come together as a reality.
According to Walsh, it is a very episodic and quickly moving performance. For some, the fast-paced nature might create a coordination problem.
The cast and crew behind this performance, however, seem to have tackled that obstacle, thanks in part to a new lighting system.
For the first time ever, the University of Arizona introduces Intelligent Lighting to the stage. It's a form of lighting design which uses computers to program movement, change of color and focus.
"Actors don't have to move to the light, the computerized lighting moves to them," Walsh said of the advanced lighting system.
As a director, Walsh is equally willing to let the actors and actresses create their own place to shine.
He stresses the importance of knowing when to step down from the director's chair and make way for collaboration.
"They're creating what they're doing and you're just helping them to create, as opposed to telling them what to do," Walsh said.
Each actor and actress brings with him or her a unique viewpoint to create the whole production.
How does Walsh bring it all together to create a message about acceptance? "You really have to be focused on what it is that you want," he said.
As the payoff for juggling an education and a career, Walsh is ultimately able to encourage people to reevaluate their unfair judgments.