Running game silences UTEP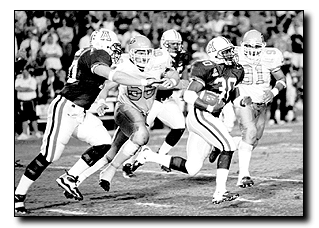 Ian C. Mayer
Arizona Daily Wildcat
Senior running back Trung Canidate breaks free for a long run during Saturday night's victory over UTEP. Canidate rushed 27 times for 202 yards, including a 60-yard touchdown run as the Wildcats had 393 rushing yards against the Miners.
It looked like a repeat of the Stanford game midway through the second quarter Saturday night, but the Wildcats weren't worried.
"It's one of those things where you've got to have faith in your team," junior defensive end Mike Robertson said. "We just never lost confidence."
After going down 14-0 to the University of Texas El Paso (3-4 overall, 1-1 in Western Athletic Conference), the Arizona Wildcats (5-2 overall, 2-1 in Pacific 10 Conference) rallied back to a 34-21 win behind senior running back Trung Canidate and an offensive line that accounted for 396 total net yards rushing.
Canidate rushed for a season-high 202 yards on 27 carries marking his fifth consecutive 100-yard game of the season. Canidate had been experiencing tendinitis in his knees in previous games, but was able to play without any knee supports Saturday.
"I just took all the contraptions off and was able to run free tonight," Canidate said. "I was looking for my B.B., that is my bionic burst, and it's coming."
Canidate also caught three passes for 34 yards.
UA senior quarterback Keith Smith was forced out of the game in the first quarter because of an abdominal injury, but that didn't faze the Wildcats as they brought in junior quarterback Ortege Jenkins, who passed for 113 yards on 10 of 17 passing. Jenkins also rushed for 83 yards on 11 carries, including a touchdown.
"Both guys (Keith Smith and Ortege Jenkins) are good players," UA head coach Dick Tomey said. "O.J. did a very good job and I expect him to do a good job when he comes in."
The Miners faked a punt on their first drive of the game to set up a 17-yard touchdown pass to Lee Mayes at 8:52 in the first quarter. Miner quarterback Rocky Perez hooked up with Mayes again on a 10-yard touchdown pass at 47 seconds into the second quarter to put UTEP up 14-0.
"Make no bones about it, we didn't take these guys lightly," Canidate said. "They came out and socked us in the mouth and we had to come back and hit them with a couple of jabs."
The jabs came in the form of 21 unanswered Wildcat points.
Arizona stormed back into the game when Canidate took a handoff up the middle, hesitated, then burst up the right sideline for a 60-yard touchdown run. Twenty-five seconds later, strong safety Greg Payne intercepted a pass and returned it down the right flat 34 yards for a touchdown.
"Any time you have a turnover like that, that results into a touchdown, that's a big momentum change," Payne said. "Maybe it got the offense started a little bit and got the defense fired up."
With 3:40 left in the first half, the Wildcats began a drive that culminated in a three-yard touchdown pass from Jenkins to sophomore H-back Eli Wnek.
The Miners tied the game on a seven-yard quarterback-keeper by Rocky Perez at 4:59 in the third quarter.
Jenkins, though, busted up the middle on a quarterback-keeper to break the 21-21 tie with a 6-yard touchdown run at the beginning of the fourth quarter.
UA junior running back Leon Callen ran around the left-end for a eight-yard touchdown run at 7:38 in the fourth quarter to complete the scoring.
The Miners marched down the field late in the fourth quarter but receiver Joey Knapp bobbled a fourth down pass in the end zone to give Arizona the ball on their own eight yard line. UA then ran out the clock to end the game.