Jenkins steps up and into the spotlight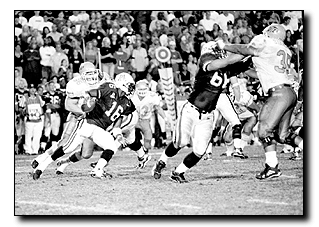 Kristy Mangos
Arizona Daily Wildcat
Junior quarterback Ortege Jenkins scrambles through the UTEP offensive line during Saturday night's 34-21 victory over the Miners. Jenkins, who was forced into action because of a slight injury to senior quarterback Keith Smith, went 10 of 17 for 113 yards and a touchdown pass, as well as 83 yards rushing on 11 carries and a touchdown.
When starting quarterback Keith Smith went down with an injury in the first quarter of Saturday night's game against Texas-El Paso at Arizona Stadium, no one on the Arizona sidelines panicked.
After all, it only meant junior Ortege Jenkins would step in.
"He's not a backup quarterback, he's a guy that's played a lot of football; he knows the offense," UA offensive coordinator Dino Babers said. "When the reliever starts as many games as he has, that's an advantage. Everyone talks about the two-headed monster, about the negatives, but that's one of the positives."
The players were equally unaffected by the turn in events.
"Well, you know that is what we've been saying ever since the two-headed monster was named," senior wide receiver Dennis Northcutt said. "That is the great thing about having the two-headed monster; if one goes down, you still got that one head. The other team can't get too happy. In a lot of other situations you got problems with snaps, you got this and that, he can't see, it changes the whole offense, but with our offense, everything is the same."
Jenkins was feeling the same way when he entered the game.
"I've been in this situation, I know what happens," he said. "It's not like I'm a scrub backup or something."
Jenkins was 10-of-17 for 113 yards and a touchdown on the night, while also rushing for 83 yards and another score.
"Jenkins played great for them tonight," UTEP head coach Charlie Bailey said. "I told my coaching staff all week that when he's in the backfield, it's like they have another running back back there."
When Jenkins entered the game the Wildcats were already down 7-0, and soon the Miners made it 14-0 before Jenkins and the UA offense began to assert itself.
"I think we always know we're capable of coming back," he said. "We have a well-balanced offense. The offensive line is playing as well as they are, it's really helping the running game. You just have to be patient, and that's what we did."
Jenkins found sophomore H-back Eli Wnek alone in the end zone with 42 seconds left in the first half to give UA its first lead at 21-14, and after the Miners tied it up again in the third quarter Jenkins scampered into the end zone himself from six yards out, almost having to flip over a couple of Miners to score.
"No, I took off, off one (foot) this time, not two," he said, dismissing any notion of a near repeat of the infamous flip into the end zone against Washington last year.
A 52-yard dash by Jenkins on the next drive set up Arizona's final score, but when looking back on the game, Jenkins said he realized things weren't as easy as he had hoped against the Miners.
"It felt good to be able to come out and get a win," Jenkins said. "(But) you have to give a lot of respect and props to the team we played. They were a lot better than we probably thought they were."