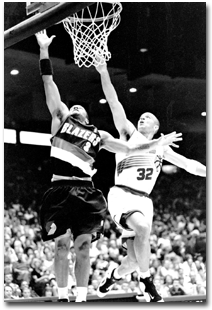 JOSHUA D. TRUJILLO
Arizona Daily Wildcat
Damon Stoudamire of the Portland Trail Blazers and Jason Kidd of the Phoenix Suns go up to the hoop in a battle for a rebound during last night's exhibition game at McKale Center. The Blazers defeated the Suns 117-110, but the game marked Stoudamire's first time back in McKale since his days as a Wildcat.
Stoudamire returns with Kidd in UA exhibition
It was the Phoenix Suns versus the Portland Trail Blazers last night, but some Pacific 10 Conference fans could have seen it as a reunion of former rivals facing off in a familiar setting.
Damon Stoudamire of the Blazers took to the floor in his old stomping grounds of McKale Center to go head to head with a his old foe, Jason Kidd of the Suns. Kidd played at California.
Sitting on the bench for Phoenix was another familiar face, Toby Bailey, formerly of the UCLA Bruins, and playing 32 minutes for the Blazers was former Washington Husky Detlef Shrempf.
Four former Pac-10 players, all garnering tremendous accolades during their collegiate careers, played in front of some of their old fans from their college days last night as the Blazers defeated the Suns 117-110 in an NBA preseason contest.
"I was happy to come back here and play and get a chance to get on the floor again in a real game-like situation, so it was fun," Stoudamire said. "It was fun to come back here and see some of the familiar faces that I used to see all the time."
One of those familiar faces that Stoudamire just can't get away from was Kidd, who had 18 points, six assists and four rebounds in 35 minutes of play. Stoudamire had 10 points and four assists in just 28 minutes.
"I enjoyed coming back here," Kidd said. "I have had some great times here, had some great games here as a collegiate. I enjoy coming back to play in a Pac-10 atmosphere."
With UA head coach Lute Olson looking on, the two continued their rivalry that has continued into their professional careers.
"I have been playing against Jay for a long time now, and once you play against one person so many times, you just play against him all the time it seems like," Stoudamire said. "I know it is a rivalry, but we have been playing against each other for seven or eight years now, and every time you play against somebody like that you just know you have to play hard."
While all the hoopla surrounding Kidd and Stoudamire was evident, there was a game played between two teams that could very well see each other in the Western Conference Finals later on down the road.
Scottie Pippen of the Blazers and Anfernee "Penny" Hardaway of the Suns were two perennial NBA all-stars playing in only their third and second games with their new teams, respectfully. Pippen played with the Houston Rockets last year and Hardaway with the Orlando Magic.
"I am still trying to feel my way through," Hardaway said. "This team is going to be so good, we are not going to get overexcited, we're not going to get our heads down, we're going to have a lot of fun this season.
"I have to start asserting myself more aggressively. I am just trying to be able to fit in and not try to do too much. They are still missing my offensive punch, so by the time the season starts we'll be where we want to be."