UA disappointed by losses to Stanford and California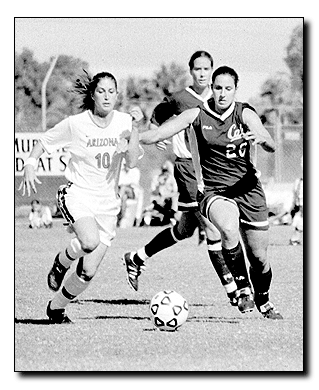 Wildcat File Photo
Arizona Daily Wildcat
Coming off the field from a disheartening loss to California, the UA women's soccer team was marred with confusion and frustration.
The Wildcats (6-8-0 overall, 0-5-0 Pacific 10 Conference) played well Friday night against No. 16 Stanford, losing 5-2, but were perplexed after losing a lackluster contest to a weaker California team, 3-0 yesterday.
The loss to the Golden Bears (10-4-1 overall, 2-1-0 Pac-10) was marked with missed opportunities and uninspired play in the second half.
"I think we came out thinking, they're not that good," UA head coach Lisa Fraser said. "Some of the kids tried to do things that they think they should be able to do, and they can't at this level. I think that really hurt us, people didn't stick to the game plan in the second half."
California was lead by junior forward Regina Holan, who scored all three goals, including a spectacular bicycle kick in the 61st-minute.
The Golden Bears outshot the Wildcats 19-12 and Cal goalkeeper Maite Zabala made four saves for the shutout.
The UA offense was not able to get on track, after falling behind to Cal.
"Our shooters need to be more patient, they need more composure and put it in the goal," Fraser said.
Junior forward Chrissy Sanford blamed the loss on the team's lack of togetherness.
"Against Stanford, I think we played well as a team, I don't think today (against Cal) we played well as a team," Sanford said. "We played like a bunch of individuals and that's why we broke down."
Sanford, along with junior defender Brooke McManus, were the lone members of the Wildcats to break into the scoring column against Stanford, who boasts some nationally ranked players.
"If you look at their roster, they have nationally ranked players on their team and they are going to put the ball in the net when they have the opportunity," Fraser said. "I thought our defenders did a decent job, a couple of misread assignments."