UA, ASU squaring off for Red Cross blood drive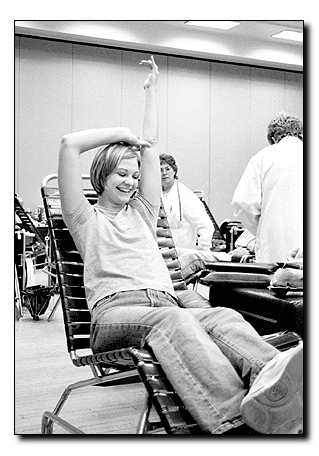 AARON FARNSWORTH
Arizona Daily Wildcat
APolitical science sophomore April Salkowski elevates her arm after donating a unit of blood in the Senior Ballroom in the Memorial Student Union yesterday.
The American Red Cross is hoping UA students will make a healthy deposit into the blood bank this week.
And they won't be satisfied unless University of Arizona students bleed more than Arizona State University students.
The 13th annual competition between the two universities began yesterday and lasts until Saturday.
ASU completed their blood drive last week, with students donating 1,155 pints. UA students donated 105 pints yesterday, compared with 278 pints that were given by ASU students on their first day.
"It's pretty sad," said Brian Green, a Red Cross representative. "I'm not terribly concerned, but I do hope people realize we're down and do come on in."
UA beat ASU last year by 502 pints - 1,425 pints to 923 pints. UA has won the competition eight of the past 12 years.
Organizers of the even, though, are not as interested in who wins this year's competition.
"The bottom line is it saves lives," Green said. "It's one of the simplest and easiest things you can do and it does so much good."
The UA is the only site in the state where the American Red Cross will be taking donations of blood this week.
Red Cross will be taking blood today in the Memorial Student Union, Kappa Kappa Gamma sorority house and Coronado Residence Hall.
Students can donate blood each day at various campus locations but Thursday and Friday's drives will focus on bone marrow donations for 9-year-old Shelly Rovero, of Tucson, who has leukemia.
Rovero, a Hispanic, has less than a three percent chance of finding a bone marrow match and needs a donor from her ethnic background, Green said.
Marti Cruz, another recruitment representative, said a match wasn't found for her in the national bone marrow register, which includes about 2.5 million people - increasing the need to find a UA donor.
"Someone out there is her only hope," Cruz said. "She also needs blood to keep her alive while she's waiting."
UA students can donate blood and bone marrow on the same day or at different times this week.
Green said they are in "critical" need of O-positive and O-negative blood. The American Red Cross has less than one day's supply of the two blood types in Arizona, Cruz said.
The Red Cross will have to import blood from other states if Arizona does not have enough blood, Cruz said.
One pint of blood can save four lives, she said.
Dixie Lauderdale, head nurse in the Senior Ballroom, advised students to eat a hearty meal and drink about a gallon of non-alcoholic beverages up to a day before donating blood.
Only minimal blood donors have reactions from giving blood, Lauderdale said.
"If they just give it one chance they would be surprised how easy it is," she said.
English studies senior Josie Ziolkowski donated blood yesterday and earned a pin.
"I feel like I am doing something for the community because I don't have a lot of time to charity work," said Ziolkowski, adding that she tries to donate her AB-positive blood type about four times a year because it is so rare.