Duck hunt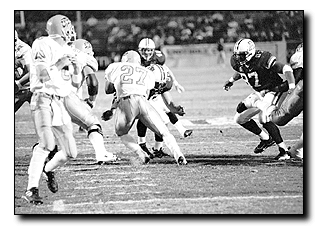 Ian C. Mayer
Arizona Daily Wildcat
Junior defensive tackles Idris Haroon looks to, and eventually does, tackle UTEP running back Paul Smith last Saturday during the Wildcats 34-21 victory. Haroon has been a big part in the Wildcats revamped rush defense that looks to shut down Oregon running back Reuben Droughns tomorrow night at Arizona Stadium.
When Arizona junior defensive end Idris Haroon is out bouncing on the field like some kind of madman, he's not being silent.
Instead, Haroon is getting into the heads of the opposition, something he and his teammates say "is just part of the game."
"I know it does," Haroon said of his trash-talking getting to the opposition. "Every time the offensive line breaks the huddle, we're barking at them, talking trash, just letting them know we're there, ready to play."
As the Wildcats (5-2 overall, 2-1 Pacific 10 Conference) head into yet another crucial game tomorrow night at 7:24 at Arizona Stadium against Oregon (3-3, 1-2) for the Family Weekend game, Haroon and his teammates will be talking things up yet again.
Haroon said Texas-El Paso's players were affected last weekend.
"The left tackle after the game said, 'Haroon, you talk too much,'" he said. "Sometimes it gets bad when the ref comes out and tells you to calm down. But it's just a part of the game, you have to get into your opponent's head. You've got to let the opponent know you're going to be there every play all game. If you're quiet, what's your opponent going to think? Aw, this guy's not going to show up to play. I want my opponent to know I'm going to play hard every down."
Senior whip linebacker DaShon Polk, one of the defense's co-captains, said that while trash-talking is part of the game, players have to remember to be careful to not talk too much, lest they can't play as well as they talk.
"I just don't go out there and talk, I go out there and back it up," he said. "You've got to back it up, you can't be out there talking smack and getting your a** kicked."
The Arizona defense faces an Oregon team coming off a bye week, which was a much-needed break for the Ducks. Oregon will be without at least four of its players tomorrow, including running back Herman Ho-Ching and offensive tackle Al Cotton.
But the Ducks' senior running back Reuben Droughns (343 yards, 5 TD) has gotten healthier since injuring his ribs earlier in the season.
"He's a good back," Haroon said. "He's a real tough guy. He'll try to run over you at times. But we're going to have to be ready for him. Our defense is here to stop the run, that's one thing to do against Oregon. If we stop the run, they're going to put it in the air. That's what I want because I love to pass rush."
Arizona will have to get its pass rush going against the Ducks' A.J. Feeley, who leads the Pac-10 in completions (118), yards (1,702) and touchdowns (13).
"I won't say Rocky Perez," Polk said, comparing Feeley to UTEP's quarterback. "He looks kind of like the USC quarterback (Mike Van Raaphorst). He's not a slow dog, he gets around, he's got a nice arm. He looks pretty solid as a quarterback."
The Arizona offense, in the meantime, is equally pumped up for the game.
"It's the most important game I've ever played in. Ever," junior center Bruce Wiggins said. "We're talking about doing this thing, going to the Rose Bowl, (so) we've got to win this game."
Wildcat senior quarterback Keith Smith (61 for 96, 859 yards, 4 TD, 2 INT) said he's recovered from his own rib injury, and he'll be ready to play tomorrow in front of his family and friends.
"It's going to be great," he said. "It's family weekend, I know a lot of my buddies that have graduated are coming back here too. You're going to get a big crowd, and you want to put on a show for them."
The Arizona running game, thanks to a resurgent offensive line, has been pounding opponents repeatedly of late, including 396 yards against UTEP.
And that's kept the opposing defenses from talking much smack to the UA offensive line.
"Lately we've been running the ball so well they can't really say anything when we're running the ball down your throat," Wiggins said. "There's been a lot of complaining to the refs, 'No. 70's holding me,' that kind of stuff. But I mean what can they say? You just look up at the scoreboard, we've rushed for 350 yards, what are you going to talk about?"