Food, folks and fun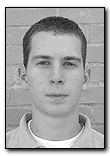 Wildcat File Photo
Arizona Daily Wildcat
Bryan Rosenbaum
Families from all over the country converge on Tucson this weekend to spend time with and take their children out to dinner and, most importantly, watch football.
Three of the last four years, however, the parents have jinxed the Wildcat football team, including the last two years. Those blow-out losses to UCLA and Washington spoiled an otherwise fun weekend.
This weekend, the Wildcats take on the Oregon Ducks, who are battered and bruised, even after a bye-week. The Ducks have an impressive offensive pair in quarterback A.J. Feeley and running back Reuben Droughns, but they will be facing a revamped Arizona defensive line.
In the first game against Penn State, junior Idris Haroon made a tackle in the backfield and got up and made sure everybody knew it was him. The Nittany Lions' fans booed and even laughed at him, and deservedly so - Penn State was up 31-0 at that point.
Early in the season, it seemed like only Haroon and junior linebacker Antonio Pearce were playing with any emotion. Their drive has spread to the rest of the defense, which is starting to show signs of its old self heading into this key Pacific 10 Conference game.
The offense is also playing well and will be helped with the return of quarterback Keith Smith, who sat out most of last week's game against UTEP. Trung Canidate is still looking for his B.B. (Bionic Burst), and Dennis Northcutt has made a strong case for being one of the country's top receivers.
The pieces are all in place for Arizona to make a run at the Rose Bowl, even with gaping holes in the secondary and special teams. Oregon is a good team - they beat USC - but injuries have killed them.
And thankfully, the Ducks won't be wearing those hideous home uniforms.
Another Family Weekend is happening this weekend in the Southeast.
Bobby Bowden leads his Florida State Seminoles into a place once nicknamed "Death Valley" to face his son, Tommy, the head coach of Clemson Tigers.
Adding spice to this rivalry is that Bowden, Sr., will be going for victory No. 300.
Expect to see the number of trick plays to be doubled, as Tommy has developed a reputation for being even more wide-open than his father. But don't expect to see the younger Bowden pull off the upset, even with Peter Warrick sitting out again for Florida State.