UA ready to challenge Colorado College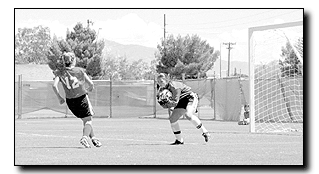 Scott Andrew Taras
Arizona Daily Wildcat
Sophomore goalkeeper Shannon Monti makes a save with senior midfielder/forward Megan Canaday looking on during a game earlier this season. Monti and the Wildcats will face Colorado College this Sunday afternoon at 1, looking to get back on the winning track after losing two tough games last week at home to Stanford and California.
After four straight losses to Pacific 10 Conference opponents, the UA women's soccer team looks to get back on track against a non-conference foe, Colorado College, on Sunday afternoon at 1 p.m. at Murphey Stadium.
"We have just gone through four tough games, and we've played four very good teams. The season isn't shot," assistant coach Bruce Caris said. "We have five games left, and we can come out on the right side of .500."
The Wildcats (6-8-0 overall, 0-5-0 Pac-10) have spent the past week working on improving team communication and getting everyone thinking on the same page.
"I think they were making sure that everyone was on the same page," Caris said. "Talking with Marisa Padula about it, talking with our captain Kate (Nighswander-Will), talking with Inger (Airheart), some leaders on the team, Brooke McManus, there seems to be a pretty good feeling."
Communicating among each other will be one of the keys to success against Colorado College.
"We were at a point where there was no communication between the forwards," junior forward Chrissy Sanford said. "We play so much better when we are talking."
The Wildcats are lead by Sanford, who is second in the Pac-10 in scoring with 10 goals and five assists (25 points) and sophomore midfielder Tiffany Sabado who has six goals and two assists (14 points).
The goalkeeping tandem of junior Inger Airheart and sophomore Shannon Monti will continue to protect the nets for the Wildcats.
Monti is confident the University of Arizona will turn things around saying, "I think it is going better, everyone sat down and settled the air," she said.
The Tigers (8-5-1) are lead by their strikers, freshman Rebecca Carroll (eight goals and four assists) and senior Thea Roggeman (five goals and one assist).
Defending the net for Colorado College will be freshman goalkeeper Kristin Masunaga and her 1.22 goals-against average.
Caris said the Wildcats must play hard for a full 90 minutes to be successful against the Tigers.
"We just have to do it; we have only done it for three or four games this year," he said. "What we've talked about is playing a quick one, two-touch game and working the midfield and the forwards together, getting everyone involved in the attack."