Icecats, Buffaloes open season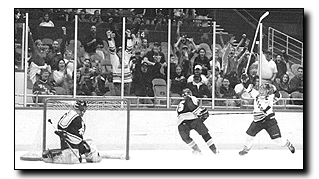 Wildcat File Photo
Arizona Daily Wildcat
Junior left Wing and co-captain Paul Dorn scores celebrates his goal in the game last season against Arizona State at the Tucson Convention Center. The Icecats begin their season against the Colorado Buffaloes tonight at 7.
An offseason worth of preparations culminate this weekend when the Arizona Icecats open the season against Colorado tonight and tomorrow night at 7.
This is the first pair of games against the Buffaloes, with another two coming in Boulder on Feb. 11 and 12.
The Icecats will be looking to start the season strong, with the return of their entire first line of juniors Mike Graves, Marc Harris and Paul Dorn.
Defensive standouts, junior Tyler Brush, sophomore Pavel Jandura and senior Tom Thompson are also returning.
Icecat fans can also look forward to seeing familiar faces in goal, with both senior Mark Meister and sophomore Jason Morgan returning to share time in between the pipes.
Last season, the Icecats swept the series 4-0, with the UA wining 4-3, 7-3 at home and 10-5 and 3-2 in Boulder.
Graves believes, despite the results of last season, that the Colorado team will come ready to play.
"It should be interesting," he said. "They are like us in that they really didn't lose anybody this year and they have a new coach, so it should be a good game."
The Icecats will be looking to use their speed on the front-line to combat the slow-down defensive style of the Buffaloes.
"Colorado is a clutch and grab team, they like to slow us down in the neutral zone." UA head coach Leo Golembiewski said.
"We have to accent speed and quickness to beat them." he added.
The match-up between the Buffaloes and the Icecats continues a long and storied history together. They have played each other eight times in the last two seasons alone, with Arizona winning all eight games.
"They are one of the few teams that have beat us at the TCC," Golembiewski said.
The Buffaloes finished off last season with a 4-18-0 record in American Collegiate Hockey Association play.
The Icecats are fresh off a fifth-place finish in the ACHA National tournament last season, where they put the finishing touches on a 23-5-2 record.
Junior center and co-captain Marc Harris is confident of his squad.
"They shouldn't be a problem. We should win, although it will be a close one."