The best of both worlds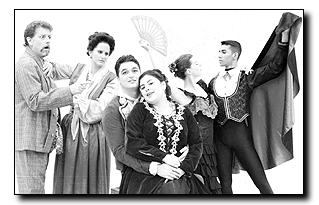 Wildcat File Photo
Arizona Daily Wildcat
John Weiss (from left), Tereza Jandura, Eli Souza, Vanessa Salaz, Elizabeth Vinson and Miguel Perez will perform during "Una Noche de Ballet y Opera Espa█ola," an opera and dance tribute to Spanish Music. The concert series begins Thursday at Crowder Hall.
They say it's not over 'til the fat lady sings.
The first time you see it, you'll either love it or you'll hate it.
Famous sayings like these are usually the extent of a college student's exposure to opera.
Charles Roe, director of Opera Theater, however, believes that "Una Noche de Ballet y Opera Espa█ola," a joint performance put on by the University of Arizona School of Music and Dance, is an easy and entertaining opportunity for students to ease into the world of opera.
The performance includes condensed versions of both "Paquita," a Spanish ballet by Minkus and "La Vida Breve," an opera by DeFalla.
"They get the best of both worlds...a chance to experience both art forms at the same time," Roe said.
People who are already interested in ballet and dance will likely find a new appreciation for opera through this program. "Disciplining the body to music is visually pleasing," he said in the hopes that people will see this connection between opera and ballet.
The evening begins with a condensed version of "Paquita," an upbeat ballet with the influence of Spanish dance movements. According to Dance Department Head Jory Hancock, "Paquita" does not necessarily tell a story but is more an abstract work.
A total of 30 UA dancers will perform excerpts from the full-length ballet.
In contrast to the lively nature of "Paquita," the second half of the evening features the tragic love story "La Vida Breve."
It is the story of Salud, a gypsy girl who falls in love with a man engaged to another woman of his social class. Vanessa Salaz, a graduate student, and vocal performance senior Amanda Fraire alternate nights in playing this woman's sorrowful role.
"Ultimately I would like to sing opera professionally," Fraire said of the career she hopes to build by performing this weekend.
Both women won awards in the 1998 Western Regionals at the Metropolitan Opera National Council auditions. By missing this opera, students could be missing a chance to see performers who are well on the path to fame in the opera world, Roe said.
Although opera is generally a vocal performance, and ballet is a physical performance, they are united in this show through their tribute to Spanish music and dance. The opera will be sung in Spanish, but for those who do not speak the language, there will be subtitles projected on the stage.
Hancock said that their purpose in combining the two forms is "to create an evening unified by a theme but also with variety."
This event is also the first time the UA Dance Ensemble and the UA orchestra will perform together.
Hancock is enthusiastic about the collaboration between the dance and music departments.
"It introduces a completely new element into the experience of performing," he said.