Woods set for spotlight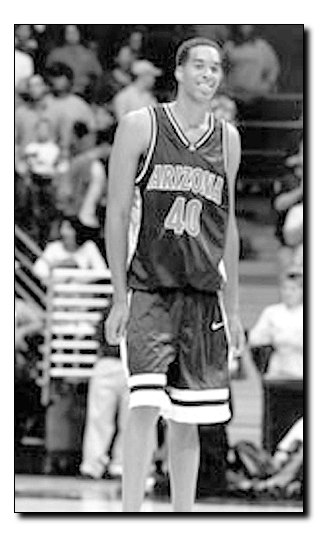 Arizona Daily Wildcat
Photo courtesy of Arizona Sports Information Department UA junior center Loren Woods gets a quick laugh in during last year's red-blue scrimmage. Woods, who transferred from Wake Forest and had to sit out last year due to NCAA transfer rules, returns this year to bolster Arizona's front court.
After riding the pines for a year, Loren Woods is eager to get back on the court, this time in a Wildcat uniform.
Woods, a 7-foot-1 junior center from St. Louis, transferred to Arizona from Wake Forest before the 1998-99 school year. He had to sit out last season, but was allowed to practice with the team. Going head-to-head with former UA center A.J. Bramlett everyday in practice made Woods a better player and gave him a year to master the Arizona system.
"We had tough battles, pretty much day-in, day-out," Woods said. "You can look at a season like that as, I'm not going to play this year, so I don't have to do as much as I have to, or you can look it as, I have a year to improve as much as I can and I will improve."
With Arizona known primarily as a guard and small forward school, the buzz surrounding Woods is understandable. Not only is Woods an incredibly talented shot-blocker and rebounder, he also has a good shooting touch, underrated passing skills and is quick and agile for a man of his size.
"He's going to be one of our key leaders," said UA head coach Lute Olson. "He's improved with his quickness, passing and has developed a nice shooting touch. The biggest single concern is getting himself down low into post-up situations."
Olson has expressed concern with Woods' ability to bang down low, but should get plenty of practice with redshirt Eugene Edgerson and freshman Robertas Javtokas, who both know how to use their bodies.
"I think I can improve in a lot of aspects, and that's one area I can definitely improve in," Woods said. "They're really trying to be on me to be a banger, and I'm going to get better at it."
Over the summer, Woods traveled to Europe on the Preseason NIT All-Star team, made up of players from teams that are competing in the November tournament. Even if the opposition wasn't the greatest, it gave Woods an opportunity to apply what he had learned over the season and play competitively again.
"That just gave me about 10 more games under my belt before I come back over here," he said. "I haven't been in competition much over the last year. I had a good team there, good guys there, and they made me look forward to coming back here."
At Wake Forest, Woods was supposed help ease the loss of Tim Duncan, who now stars for the NBA's San Antonio Spurs. After starting the first 14 games of the 1997-98 season, his sophomore year, Woods took a leave of absence for the next seven games to clear his mind. He returned for the final nine games with the Demon Deacons, but his playing time was reduced.
Realizing he needed a change, Woods left Wake Forest and became one of the first high-profile players to transfer to Arizona. So far, the decision has been a good one.
"I think it's helped me a lot as a player and a person both," he said. "I think, as a player, anybody can come to this program and benefit, no matter what happens. This type of program helps you mature tremendously. We have a great coach and all of our assistants are really good, too.
"(Last year) didn't seem like that long because my team, they helped me through it. They were like my family last year. They never made me feel like an outcast or that I was different, so it just went by fast."
This season, his teammates have helped him adjust again, this time to the starting lineup.
"Last year, we played against Loren every day in practice, so now it's going to be a little different having him in our team, playing with the first team, and see how it effects defenses," sophomore forward Richard Jefferson said.
With Woods and sophomore forward Michael Wright inside, Arizona may have one of the country's top frontcourt duos. Besides being dominant on the inside game, having Woods and Wright should free up the perimeter players, who were often smothered a year ago.
"This year, I think we're going to be a lot more open, go for more steals because Loren's going to be in there and teams are going to be afraid of him," Jefferson said.