Baseball finishes a grueling fall practice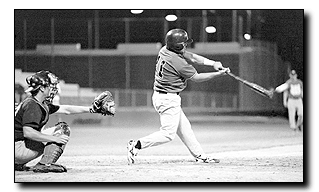 Wildcat File Photo
Arizona Daily Wildcat
UA junior shortstop Keoni DeRenne takes a cut during an earlier fall scrimmage game at Frank Sancet Field. The UA baseball team completed their fall intersquad schedule Saturday and will begin the regular season on Jan. 21 at home against St. Mary's College of Moraga, Calif.
Arizona baseball head coach Jerry Stitt said he's never come out of fall practice with his starting lineup still in so much flux like he did after this Saturday's final scrimmage.
"We've got so many good guys who were good backups (last season), plus we've got so many new good players in there that are pushing guys for positions," he said. "From a coach's standpoint, there's nothing better. Everybody kind of thinks 'Oh, God, we've got a lot of decisions to make.' (But) guys are pushing each other every day, battling hard and that's the important thing."
Junior shortstop Keoni DeRenne, who led the team with a .361 average and 22 stolen bases in 1999, is pretty much a lock to start.
The rest is up in the air. The competitors at catcher are freshman Ken Riley, junior transfer Ryan O'Donnell and senior Mike Meyer, who was the Wildcats' closer last season and a backup at first base and third base.
First base remains a toss-up between returning starter Ernie Durazo and Ben Diggins, who was mainly used as a designated hitter last year in addition to being the Wildcats' No. 2 starting pitcher.
The coaches also need to decide whether to make Diggins a starter again, as he was 8-6 last year, or make him a closer, the position he held for the USA Baseball National team this summer.
"I don't know," Diggins said of what his fate will be on the mound come spring.
"The way I pitched today, I probably wouldn't pitch at all," he added after Saturday's final scrimmage. "He (pitching coach Bill Kinneberg) hasn't talked about it to me yet."
Stitt said Diggins' role remains up in the air.
"The two keys are (senior Rob) Shabansky and what we do with Benny," Stitt said. "Whether we start him or put him in the bullpen."
Stitt also said the Wildcats have five potential starters in Shabansky, who redshirted last year after blowing out his elbow, Diggins, sophomore left-hander Brian Pemble, senior Mike Crawford and senior southpaw Tony Milo.
Elsewhere in the lineup, second base is up for grabs with sophomore Brad Hassey, who missed fall practice with a torn ligament in his wrist, and junior transfer Trevor Mote the leading candidates.
Junior Erik Torres is being challenged at third base by highly-touted freshman Matt Abram, while the outfield features a battle between sophomores Shelley Duncan and Kenny Huff, senior Troy Gingrich and O'Donnell. Throw in UA football free safety Rafell Jones, who is expected to join the baseball team in January, and things are even more crowded.
"It's hard to say right now just because it's only Fallball and the teams were split," DeRenne said regarding his thoughts on the current Wildcats. "From the looks of it, nothing is going to be handed to anybody, which is a good thing. Everybody at every position is battling it out and nobody is letting up and that's the main thing. You don't want guys slacking off or guys going harder than other people. It's something to look forward to. And we know that we can build on what we did this fall and hopefully we're just going to get better."