Laxcats beat ASU once again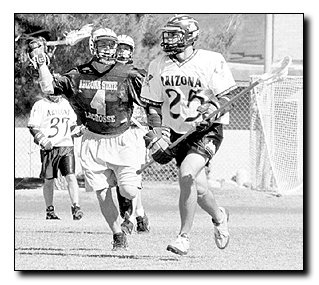 Eric M. Jukelevics
Arizona Daily Wildcat
Junior defenseman Tom Christian of the Laxcats clears the ball with an ASU attackman behind him trying to check the ball out of his stick. The Laxcats opened their fall season with a 7-5 victory over ASU Saturday afternoon.
It may have only been an exhibition game, but when a University of Arizona sports team plays an Arizona State University team, there is something more than a victory at stake.
The Arizona Laxcats came back from a 5-4 deficit to defeat ASU 7-5 Saturday afternoon and keep their title as top collegiate lacrosse team in the state.
"It means a lot, it really means a lot," junior attackman Justin Taglianetti said of beating the Sun Devils. "It's ASU, this is what we work for all year. In-state rivals, this is what it is all about. We never lose to them. I have never lost to them since I've been here, and I am not going to."
With the score 5-4 in favor of ASU, Taglianetti lead a fast-break down the right side of the field, fed a pass to sophomore Eric Renner, who put it into the cage, tying the game and giving him his second goal of the game.
Then, with 7:45 minutes remaining in the game, senior midfielder Lon Packer scored the go-ahead and eventual game-winning goal.
"We never let down, we never gave up," Packer said. "We were down two goals, and we never put our heads down. It was like, we're going to win this game. It was a matter of time for us to bring the offense together. As soon as we slowed it down on offense, we had a pretty good idea that we would win."
The Laxcats, who were playing in their first game of the fall season, have not lost to ASU, who were playing their third game of the season, since 1991.
"I think the advantage that ASU had over us was that they had already played three games," UA head coach Mickey-Miles Felton said. "We could practice until we are blue in the face, but until you get into the game it is a total different kind of environment."
The Laxcats are happy to get this game under their belt as next weekend they travel to Las Vegas to compete in a tournament that boasts UCLA, Brigham Young and Colorado State, the team that won the national championship last season.