Steelers' defense overcomes Falcons in 13-9 win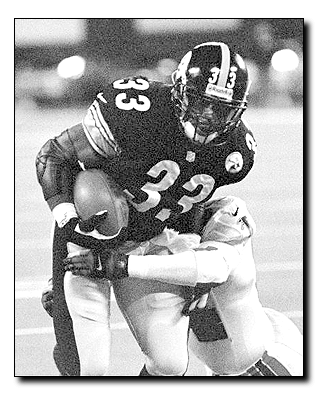 Associated Press
Arizona Daily Wildcat
Pittsburgh Steelers running back Richard Huntley (33) drags Atlanta Falcons cornerback Ray Buchanan for a touchdown in the first quarter yesterday, in Pittsburgh.
Associated Press
PITTSBURGH - And Atlanta thought the Braves' offense had disappeared.
Pittsburgh's defense teed off on the Falcons' depleted offense last night, sacking Chris Chandler seven times and preserving a 13-9 victory with two goal-line stands in the final two minutes.
The Falcons trailed 13-0 and never threatened offensively until Chandler hit Terance Mathis on a 5-yard scoring pass with 3:39 to play, then found Mathis again on a 40-yard completion to the Steelers' 7 following Jerome Bettis' fumble.
But after Ken Oxendine ran 6 yards to set up a second-and-goal at the 1, the Steelers' defense stacked up three successive running plays.
Fullback Bob Christian was stopped for no gain by Kevin Henry on second down, and Levon Kirkland blew through the left side of the Falcons' offensive line to dump Christian for a 1-yard loss on third down.
The Falcons eschewed the short pass to run again on fourth down, but Earl Holmes and Kirkland teamed to stop Oxendine inches short of the goal line on fourth down.
The Steelers (4-3), unable to get a first down that would run out the clock, then took a safety rather than punt out of the end zone on fourth down to make it 13-9.
Chandler wasn't done, finding Tim Dwight for 27 yards to the Steelers' 5 with five seconds left. But, after spiking the ball to save time for one last play, Chandler couldn't find an open Dwight over the middle on the final play.
Chandler finished 20-of-34 for 233 yards, while Mathis had 12 catches for 166 yards.
The Steelers weren't much better offensively than Atlanta, scoring their only touchdown - and the first by their starters in three home games - only after Chad Scott's 16-yard interception return gave them a first down at the Atlanta 11 late in the first quarter.
Two plays later, Richard Huntley - once the backup for injured Falcons running back Jamal Anderson - scored on a 13-yard swing pass from Kordell Stewart for a 7-0 lead that was the Steelers' first in three home games this season.
Rookie Kris Brown later kicked field goals of 51 and 25 yards, making him 11-of-11 to start his NFL career and helping the Steelers end a four-game home losing streak that was their longest since moving into Three Rivers Stadium in 1970.
The Falcons (1-6) haven't beaten the Steelers since that season, going 1-11 against them and 0-5 in Three Rivers. Their 1-6 start is their second in three seasons but one that was totally unexpected coming off their Super Bowl season a year ago.
The Falcons haven't been the same team since Anderson was lost with a season-ending knee injury. The NFL's third-worst rushing offense ran for only six yards in the first half
Fittingly enough on a night the Steelers honored the 25th anniversary of their 1974 Super Bowl team, they relied on their running game and defense - much like they did 25 years ago.
The Falcons' defense effectively contained Stewart, who stayed mostly with swing passes, short throws to his wide receivers and handoffs to Bettis in an effort to limit turnovers.
Bettis ran for 58 yards in the first half against the NFL's third-worst rushing defense and finished with 80 yards.