MaKiN' NoisE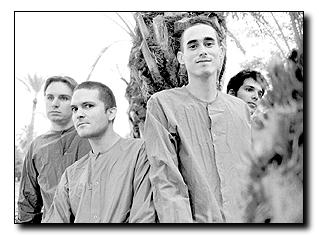 Matt Heistand
Arizona Daily Wildcat
Local band Pathos, (from left) bassist Bob Thomas, guitarist/vocalist James Martin, drummer Andy Bell and keyboardist/vocalist James Tiscione, hang out in front of Old Main yesterday afternoon. Pathos will be playing an all-ages show tomorrow night at Double Zero.
For the continuously evolving Tucson band Pathos, the future is as undefined as their musical style.
"We change with every song," said keyboardist James Tiscione. "With each one, we take great steps."
With the release of Pax, their second album, the band hopes to increase both its local and national exposure. Tomorrow's show, at the Double Zero, 121 E. Congress St., will include music from both past and current releases and will be open to fans of all ages.
The band hopes that their experimental melodic pop/rock style will continue to take off with the Tucson audiences.
Pathos says that the current national scene is in need of some change as well.
"The local art around here is really overlooked, and I think the national music scene has reached a period of stagnation," said guitarist James Martin. "People here (Tucson) are changing because the grunge rock of the early nineties is dead, and the rap-metal scene is getting old."
Martin also said that Tucson may soon be involved in this musical revolution.
"I think if it continues this way, Tucson is poised to be the next hub," he said.
Pathos, founded by Martin in 1995, has made a lot of local noise, most recently at the Downtown Fall Crawl. Dressed in monk's robes and with white-painted faces, the band played a set to a stunned audience.
"I think the reason we did it was because it was the complete opposite of what everybody else did," Tiscione said.
"The people in the audience seemed frightened," Martin added.
At the Tucson Area Music Awards in June 1999, Pathos was voted the "Best Up and Coming Artists."
Drummer Andy Bell said that Martin, who began his music career with former local favorites Malignus Youth, has been an integral part of the changing Tucson area scene.
The band agreed that the evolving local music scene is taking some important steps.
"I'm really excited about what is going on," Bell said. "There is a birth of a new scene."
The band also has University of Arizona connections. Martin was a former student, and Tiscione is currently a senior majoring in music.
Both said that juggling school and the band has been difficult.
"This (balancing the two) has been a problem," Tiscione said. "I'm going to school for this."
"Still, when it comes to studying about 14th century choral music or playing a show with these great guys, you have to do what you like."
Martin said that some music professors understand the student-performer dilemmas. " Dr. Edward Murphy was very supportive of me and my love of music."
While Martin and Tiscione attribute some of their support to the UA, the entire band pays tribute to other local and international bands.
Martin said that Tucson band Calico, and the French band Amor Bellam Duo have similar styles that Pathos wants to incorporate.
Pathos also said that they are happy that local band Hobart will be opening because of their similar style.