98¤ -- This Christmas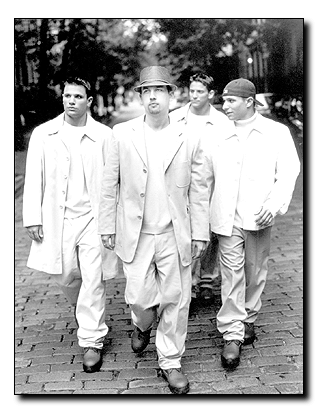 Wildcat File Photo
Arizona Daily Wildcat
Universal Records
As department stores in malls across the country would make one believe, it is never to early to start celebrating Christmas. Unless, of course, such celebrations come compliments of 98Ç. Then stow away the stocking and take down the trimmings because it isn't even Halloween yet, freak.
It is rather early to be releasing a Christmas album, but 98Ç probably felt the need to get their album out to the masses of screaming teen-age girls before the release of the joint Christmas album by the Backstreet Boys and the Spice Girls.
The problem is that no one is in the mood for Christmas right now, and the album doesn't really help one get into the holiday spirit.
The group fails to do anything interesting with old standards like "God Rest Ye Merry Gentlemen" and "The Christmas Song." The problem is that they are perceived largely as a marketing tool, as a group of four mildly attractive guys with tolerable singing skills that only have a record contract because they can make 14-year-old girls part with their allowance.
Thus, when undertaking the generally serious (in that many have done so before and done it better) project of a Christmas album, 98Ç cannot bring credibility to their endeavor. The album becomes sappy, saccharine pop-Christmas caroling.
The group's harmony does lend some positive aspects to a few of the songs, ("O Holy Night"), but contributes rather dismal renderings of "Ave Maria" and "Little Drummer Boy."
98Ç would do best to stay away from the cold of winter and stick to the hot pop songs of summer. - Graig Uhlin