Soul wax -- Much Against Everyone's Advice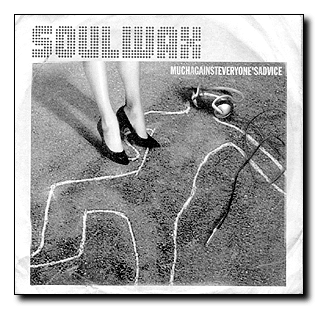 Wildcat File Photo
Arizona Daily Wildcat
Soulwax's new album, Much Against Everyone's Advice, released on Almo Sounds, is characterized by a fusion of electronic loops and beats and classic alt. rock sounds.
Almo Sounds
Soulwax's first major label debut, Much Against Everyone's Advice, and their second attempt at making a dent in the American music scene, bursts forth like a young Holden Caulfield observing and criticizing his fellow human beings for their phoniness and lack of passion.
Passion is not lacking here, however. From the start of their album, Soulwax, who revolve around Belgium-born brothers David (guitarist) and Stephen (singer) Dewale, criticize the American music and party scene, particularly L.A., with a sense of light humor and child-like na—vet≠. And they do it oh so well.
In "Saturday," Stephen plays the role of an outsider observing an American club scenester, singing in a trite voice, "We think that we're so cool/ And we make the others drool/ Talkin' like a chameleon." He goes on to say, "Sometimes love kills time/ It just might tonight."
Backed by aggressive rock/pop melodies fused with electronic loops and drum beats, Soulwax's songs are tight, finely tuned compositions teeming with intelligent, brilliantly rendered lyrics. The string arrangements on "Proverbial Pants" lend an eerie, melodic background for the brothers Dewale's improvisation. "Too Many DJ's" offers up a pleasant mix of old school beat-boxin' and rattling guitars.
Soulwax has produced a refreshing "alternative rock" album with Much Against Everyone's Advice, and should give the current crap being played on "rock" stations a run for its money. -Barry McGuire