McDonald endures storm of post-game criticism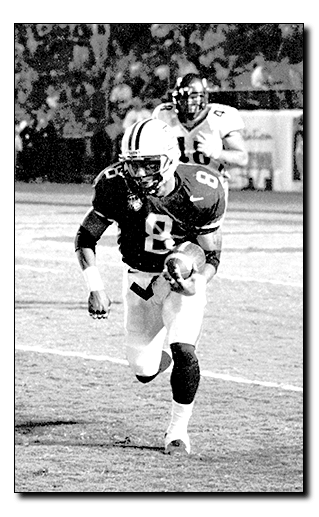 Matt Heistand
Arizona Daily Wildcat
Senior wide receiver Dennis Northcutt runs for daylight during the Wildcats' 44-41 loss Saturday night against Oregon. Northcutt criticized senior kicker Mark McDonald after witnessing McDonald's pre-kick ritual, or lack thereof, on the sidelines during the Wildcats final two-minute drive.
The kick heard round the city of Tucson is still lingering in the public mind three days after it happened.
While some people are still calling for senior kicker Mark McDonald's head after he missed a 45-yard field goal with two seconds left in Arizona's 44-41 loss to Oregon at Arizona Stadium Saturday night, UA head coach Dick Tomey said that since then things have taken a more positive turn for McDonald.
"Mark has received such an outpouring of support from people in the community," Tomey said. "And he has received apologies from people in the community for the actions of others. He feels a great deal of support, he's received tremendous support from his teammates."
But prior to yesterday afternoon's practice, one notable UA player said he wasn't so sure about McDonald.
"I just watched the tape, the TV coverage, and what I've seen on the sideline I didn't really like," senior wide receiver Dennis Northcutt said. "And that's honest, and that's the only thing I can do is be honest."
"We're in our two minute drive and I see him smiling and stuff on the sideline. I didn't like that. I'm out there playing my heart out and... it's hard when you're a senior, and you're giving everything you've got and (you've) had games where you cramped up for playing so much, over 100 plays, and then losing this game so close."
"I just want to know where his head's at. If he really cares about this team, and he's giving all he's got then that's fine. When I speak to him that's pretty much what I'm going to ask him."
Northcutt said he wasn't jumping to conclusions about McDonald's sideline behavior prior to the missed field goal, but the look of things wasn't that good.
"I wanted to know whether he was into the game," Northcutt said. "Because like I said, there are a lot of people out there giving all they had and would have gave all they had, and even more, to go out there and try to kick the ball. For a person to mean so much to the team in the two minute drive to be on the sidelines laughing and the TV has the camera showing that... that hurt, that really hurt me because of all the things I've been through as far as trying to help this team. All I've given up playing both sides, over 100 plays and being so tired where they have to have Gatorade bottles on the sideline (just) for me."
After practice yesterday, McDonald said he had talked about things with his teammates. One thing that came up was about what was occurring on the sideline just prior to the field goal.
"I wasn't aware until under a minute left," McDonald said. "It was pretty quick, I only got a few kicks in."
McDonald had been removed from the game in favor of two freshmen, Chris Gray on kickoffs and Sean Keel on extra points, after McDonald had missed an extra point in the third quarter.
Tomey called McDonald "our best option" in terms of distance and that was why McDonald was brought back into the game.
McDonald defended that decision rather than use it as an excuse for missing.
"But that's what happened, coaches make decisions," he said. "If I had made it, it would have been the greatest decision ever made."
Northcutt said he didn't know if McDonald had been aware of the situation "but there are things you've got to learn from and move on."
As for McDonald, he said he's over the incident and trying to move on as Northcutt suggested.
"(I'm) getting by. I don't feel good by any means," McDonald said. "It was a real hard weekend, a real emotional weekend. But I'm out here right now, just got out of my first practice since the world came to an end."
Tomey said that if anything, the fans should become more aware over time that McDonald isn't the only one to blame for the loss.
"There were so many players and coaches who were all co-conspirators in losing that game," Tomey said. "You can't focus on that last play. It's not that simple."
McDonald said the fans focusing on him and not on the 288 return yards UA gave up or the fact Oregon's average starting position was its own 43-yard line or that Ducks' running back Reuben Droughns had 202 yards rushing was something he's used to by now.
"That just re-iterates the fans' ignorance of football," McDonald said. "Most people don't understand football."
Junior linebacker Antonio Pierce agreed.
"Everyone putting all the eyes and the cameras on Mark isn't fair, they should point it at some of us defensive players," he said.