On the comeback trail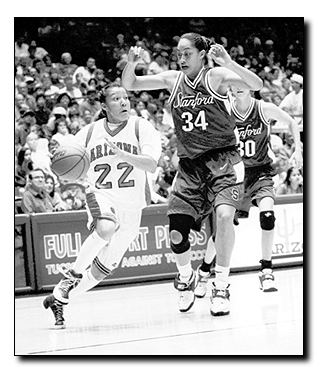 Wildcat File Photo
Arizona Daily Wildcat
Redshirt senior guard Monika Crank drives to the hoop during the home game against Stanford in 1998. Crank, who redshirted all of the 1998-99 season due to a torn left knee ACL during preseason workouts, will be back on the court once again for the Wildcats when they open their season with the Red-Blue game on Sunday evening.
After a pre-season injury benched senior guard Monika Crank for the 1998-99, she is eager to get back to playing the game she loves.
Before the 1998-99 basketball season, Crank tore the ACL in her left knee and was forced to take the season off to nurse the injury.
"My knee is now feeling a lot stronger because I have been working it out a lot," Crank said. "So I should be at full potential by the time the season starts."
With the season beginning on Sunday with the red-blue scrimmage, Crank said she is excited to finally get back on the court and play competitively again.
"The year off was difficult, but as we began practicing for the upcoming season, I want to once again contribute to the team on the court, as opposed to off" Crank said. "Getting back into practice has been nice, but I love basketball and want to play in games again."
In the 1997-98 season, Crank was an honorable mention member of the All-Pacific 10 Conference team. En route to that feat, she maintained a .407 three-point field goal percentage, placing her second on the all-time list at Arizona.
Crank's trademark is her three-point shot, which coaches and players say will open up the UA offense and give it another dimension.
"Monika is someone that I am very excited about having back as we missed her three-point shooting last year," UA head coach Joan Bonvicini said. "Her ability to hit the outside shot is very exciting and gives us another option on the court."
Sophomore guard Julie Brase agreed. "Monika is a great three-point shooter and having her on the roster again will benefit us more than we can realize yet," she said. "She is going to make a huge impact on our offense, it is going to open it up and diversify what we can do."
Aside from her ability to hit the jumper, Crank is also recognized for being able to grab rebounds better than most guards her size. "At 5-foot-7, she is a very solid rebounder that makes good decisions." Bonvicini said. "Monika is a very good defensive player and is very smart on the court."
The Wildcats' rebounding last season is a concern that Crank wants to help address in 1999-2000. "I want to contribute to the rebounding this year, because from what I saw on the sidelines a year ago, that is the area in which we need the most improvement," Crank said. "Defensively, I just want to make my presence felt out on the court."
Crank said that the time she spent last year, watching the games from the sidelines, was a good learning experience, as she was able to see the games from the coach's point of view.
"After sitting out a year, I learned a lot from Coach (Bonvicini) about being an emotional leader," Crank said. "I want to take what she taught me along with the physical part of my game and be the best player I can in my senior season."
Bonvicini agreed that having Crank out for the entire season last year was not a complete loss.
"There is something to be said for sitting on the sidelines," Bonvicini added. "She used it as a learning tool and developed into a good leader as she began to understand that as a coach, you see things in a different way."