The Sounds of Silence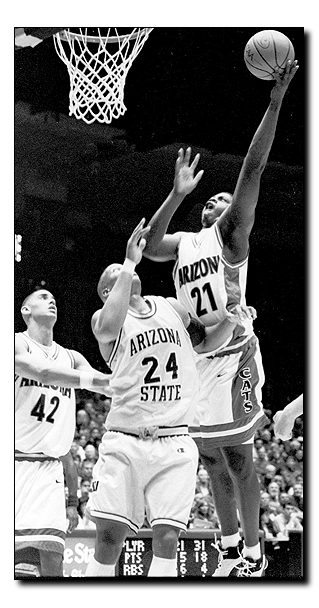 Wildcat File Photo
Arizona Daily Wildcat
Sophomore power forward Michael Wright goes up for a lay-up during last year's home game against Arizona State. Wright, along with junior center Loren Woods, are expected to make up one of the toughest frontcourts in the nation.
Last season, Michael Wright came out of relative obscurity, at least as far as most Wildcat fans are concerned, and immediately stepped in and became one of Arizona's top players,
Wright, the 1998 Pacific 10 Conference Freshman of the Year, averaged 13.9 points and 8.8 rebounds per game a year ago, tops of all Wildcat returnees.
The rugged sophomore forward is already considered one of the country's premier power forwards and, along with 7-foot-2 junior center Loren Woods, will lead one of the nation's most talented and intimidating frontcourts.
Wright's quiet demeanor hides the fact that he grew up on the mean streets of Chicago. He played with Kevin Garnett at Farragut Academy, but only for his freshman year, and finds himself teaming up with another dominating post player this year.
"If Michael Wright and Loren Woods aren't one of the best tandems in the country, there's something wrong," UA head coach Lute Olson said.
If his teammates are looking for somebody who is willing to get in someone's face all the time, they won't be looking to Wright. That's not his style.
"I'm not that much of a vocal leader, but I think I can lead from example," he said.
This means going hard on every possession at both ends of the court, something Wright wasn't always able to do last year. He was often substituted on defense late in the games in favor of redshirt senior Eugene Edgerson because he was fatigued. One thing the coaching staff noticed immediately when the team began practice earlier this month was how much better shape Wright is in.
"I'm about 242 (pounds), I lost like 20 pounds, actually, over the summer," Wright said. "I got back in the weight room and just gained it back. I feel real better. I move real good, it's not like last year, where I was tired a lot and I had to come out of the game. I feel well-conditioned and feel that I can do more things now."
Wright starred for the USA Basketball Junior National Team for the second straight summer over the offseason. At the Junior World Championships this summer in Spain, he was the team's leading scorer (11.5 ppg) and rebounder (4.9 rpg).
"It helped a lot because it kept me playing," he said. "When I was in Phoenix playing two-a-days (before the tournament), it kept me well-conditioned and kept the weight off. In the summertime, people slack up."
Olson is pleased with Wright's physique as well.
"He's improved his quickness and running the court better," he said. "He's so much quicker and able to do more things because of it."
Olson is excited to switch from a more perimeter-oriented offense to a high-low offense to cater to Wright and Woods down low, but Wright is thinking about how good the team can be on defense, which Olson has to admire.
"It's going to be a real good defensive team," Wright said. "Loren's great at shot-blocking, and I improved a little bit."
Thrown into the fire last year as freshmen, this year's sophomores, led by Wright, are ready to use what they learned last year and be more consistent this season. Wright was the most consistent player Arizona had last year, but ended the season on the wrong foot, stepping over the end-line before inbounding the ball after a basket late in the NCAA Tournament first round loss to Oklahoma.
Despite everything that went well, that split-second left a bad taste in Wright's mouth.
"Everybody improved because last year's freshmen now had a year under us," Wright said. "The sophomores, we're just going to get out there because we know what we've got to do and we don't have a vocal leader like Jason Terry was, so we just have to go out there and play hard and keep the team together. We have a young team, so we're going to have to step up."