Wildcats drop 5-game match to BYU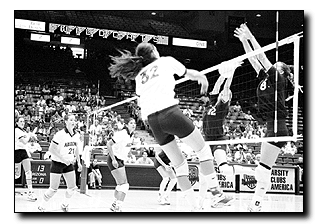 Aaron Farnsworth
Arizona Daily Wildcat
Sophomore outside hitter Jill Talbot spikes the ball during last night's match against Brigham Young University at McKale Center. The Wildcats lost a heartbreaker, 15-12, 13-15, 3-15, 15-6 and 15-5, to extend their losing streak to three games.
David Rubio is tired of making excuses.
The UA women's volleyball head coach has heard plenty of reasons why his Wildcats shouldn't beat ranked teams. Reasons along the lines that the team is too young, too inexperienced and not used to the big game.
The Wildcats proved their critics right last night, losing 15-12, 13-15, 3-5, 15-6 and 15-5 to No. 11 Brigham Young at McKale Center.
"I'm through saying that we're too young and inexperienced," Rubio said. "We quit in games four and five tonight. We're not ready to win yet."
For the second straight match, the Wildcats have squandered big leads against ranked teams. Friday night, UA let UCLA come back from a 2-1 deficit, as the Bruins won the match in five games.
Last night was no different.
The Wildcats split the first two games with the Cougars, losing game one, 15-12, and winning game two, 15-13.
A well-rounded offensive attack by senior Raelene Elam, sophomore Jill Talbot, and sophomore setter Dana Burkholder helped the Wildcats blow out BYU in game three, 15-3. The Cougars were on the ropes, but for the second time in as many matches, the Wildcats were unable to finish-off a ranked opponent.
BYU blew out UA in game four, 15-6, and took the fifth and decisive game, 15-5.
"We're good enough physically to win these matches," Rubio said, "But, we're not strong enough mentally. Games three and four were 'a hope and a prayer' for us."
The Wildcats allowed five BYU players to reach double-digits in kills, while All-American setter Anna-Lena Smith had 57 assists en-route to the Cougar victory.
Elam, the team's lone senior, tried to pinpoint UA's perceived lack of killer instinct in late games.
"We've got to keep fighting," she said. "Mistakes happen out there, but everyone needs to step up and fight."
Freshman outside hitter Lisa Rutledge has not been the same since logging 22 kills against USC on the road a month ago. Last night, Rutledge was a paltry 14 of 57 from the field with a .018 hitting percentage.
"I knew that Lisa was struggling out there, so I put Alison (Napier) in," Rubio said. "She came in for game five and we made a few errors. That was the start of our demise."
Elam believes the young team is afraid to win.
"A lot of people looked at BYU and thought, 'why should we be beating them,'" Elam said. "We're just afraid to win."
Rubio agreed.
"We're good enough to beat these kinds of teams," he said. "We play not to lose instead of playing to win."
So far, the Wildcats have defeated just two ranked teams, USC and San Diego.
"If you want to be the best of the best, you've got to beat the best," Rubio said. "We need to demonstrate that we have what it takes to beat good teams. We need to play up (to our opponents)."
The Wildcats now find themselves in the midst of a mid-season tailspin. UA has lost four of its last five contests, three of them (USC, UCLA, and Stanford) Pacific 10 Conference matches.
UA's three match losing streak is their longest such drought since they lost four in a row in 1996. The Wildcats had prevailed in 16 of their past 18 five-game matches before the losses to UCLA and BYU.