Victory pulls Yankees within one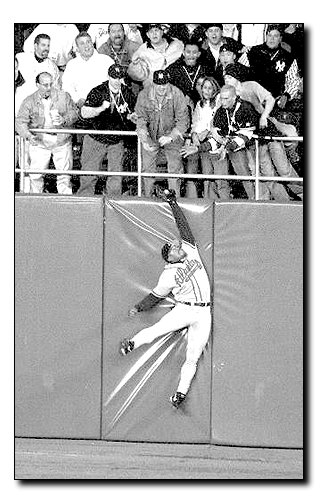 Associated Press
Arizona Daily Wildcat
A ball hit by New York Yankee second baseman Chuck Knoblauch pops out of Atlanta Braves right fielder Brian Jordan's glove for a two-run homer during the eighth inning of Game 3 of the World Series last night. The Yankees came back from a 5-1 deficit to win the ballgame 6-5 on Chad Curtis' home run in the 10th and took a 3-0 lead in the series.
NEW YORK -ěChad Curtis hit his second home run leading off the 10th inning allowing the New York Yankees to beat the Atlanta Braves 6-5 last night to move within one victory of another World Series sweep.
Just when everything seemed to be going Atlanta's way in Game 3, the Yankees still found a way to win.
Curtis homered in the fifth to begin their comeback from a 5-1 deficit, and homers off of Tom Glavine by Tino Martinez and Chuck Knoblauch, the latter's off right fielder Brian Jordan's glove in the eighth, tied it.
Then in the 10th, Curtis sent a 1-1 pitch from Mike Remlinger far over the left-field fence for the Yankees' 11th straight World Series victory. It was the first game-ending homer in the Series since Joe Carter's Game 6 shot won it all for Toronto in 1993.
"I have a tendency when I get up there in that situation, I try to hit a home run," Curtis said. "So I went up there and tried to hit it up the middle and I hit a home run."
Curtis made his first ever start in the Series and ended up a hero.
"Always somebody you don't expect," Atlanta manager Bobby Cox said. "You never know where it's going to come from."
Roger Clemens, who joined the Yankees this spring in hopes of winning his first World Series ring, gets a chance to close it out in Game 4 tonight against John Smoltz.
No team in baseball history has overcome an 0-3 deficit in postseason play. The Yankees are trying to win their third World Series in four years, a streak that began when they beat Atlanta in 1996.
Mariano Rivera, Mr. Automatic in October, pitched two innings for the victory. He has not allowed a run in his last 41 and two-third innings, and has a postseason streak of 24 and one-third scoreless innings.
While the Braves lost their seventh straight Series game, the Yankees moved within one victory of tying the longest winning streak ever. The record was set by their Murderers' Row teams of 1927, 1928 and 1932.
Up until the Yankees turned from singles hitters into the Bronx Bombers, the Braves were in control.
"It would have been nice to have won tonight," Cox said. "It would have gotten us going real good. This was a big one to lose tonight."
Glavine, scratched from his Game 1 start because of the flu, fortified himself with a plate of ravioli and pitched like a two-time Cy Young Award winner. And Atlanta looked every bit like the team that led the majors with 103 wins.
Bret Boone hit three doubles in the first four innings against Andy Pettitte and every Braves batter had a hit by the fifth. By then, it was 5-1 and the sellout crowd of 56,794 was booing the home team.
Boone could been seen huddling in the dugout with batting coach Don Baylor, checking out what appeared to be hitting charts. During Monday's workout, Baylor held an extended session of batting practice and stressed patience at the plate and emphasized hitting to the opposite field.
It all worked in the early going for a team that hit .121 in the first two games.
Then, the Yankees flexed their muscles.
Curtis hit the 11th game-ending homer in the Series history, the fifth in extra innings. It also was the Yankees' second such shot in this postseason-Bernie Williams did it to Boston in Game 1 of the AL Championship Series.
Curtis hit New York's first home run of the Series, a solo shot with two outs in the fifth. Martinez made it 5-3 with a solo drive in the seventh, and Glavine dropped his head in disgust.
Joe Girardi opened the eighth inning with a single and Knoblauch followed with a high drive to right field. Jordan jumped at the wall and the ball bounced out of his glove and into the stands for a tying home run.
"I knew I hit it pretty good," Knoblauch said. "Jordan, who's a great outfielder, jumped and I prayed, 'Come on.' I got a break."
Last October, Knoblauch struck for a tying, three-run homer in the seventh inning of Game 1 against San Diego's Donne Wall.
"We got beat with a pop to right field," Cox said.
Knoblauch's homer brought John Rocker running from the bullpen, and Derek Jeter promptly singled. Paul O'Neill tried to sacrifice, but popped it up and then committed a more costly mistake.
With O'Neill standing at the plate and shaking his head in anger, the Braves let the ball drop and turned a double play.
Boone became the first player to hit three doubles in a Series game since Junior Gilliam for Brooklyn in 1953. Frank Isbell hit a record four for the Chicago White Sox in 1906.
Gerald Williams led off the game by reaching out and flaring a single to right field and Boone also went the opposite way, doubling off the wall in right.
Chipper Jones followed with a grounder that third baseman Scott Brosius bobbled, giving him no chance at the plate and leaving him only with a play at first as Williams scored.
The Yankees needed just five pitches to tie it. Knoblauch opened with a liner that popped loose from Jordan's outstretched glove for a two-base error. He moved up on Jeter's fly ball and scored on O'Neill's single.
While Glavine settled down quickly, Pettitte never got into a groove.
The Series win was the 11th in a row for manager Joe Torre, breaking the record set by Joe McCarthy of the Yankees.
New York won in its 200th World Series game - the Yankees are 120-79-1 overall, with the St. Louis Cardinals' total of 96 games ranking second.