UCLA in process of falling to the bottom of the Pac-10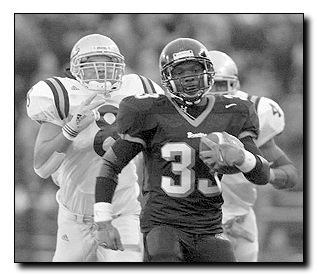 Associated Press
Arizona Daily Wildcat
Oregon State running back Antonio Battle runs away from UCLA defenders Robert Thomas (left) and Ryan Nece as he scores a touchdown during the Beavers 55-7 victory Saturday. This is a scene that has become all-too familiar for the Bruins as they have gone from Pac-10 champions last year to last place in the conference this season.
After the 1997 Washington State Cougars won the Pacific 10 Conference title and played in the Rose Bowl, their talented senior class departed and the team collapsed into last place in 1998.
And while UCLA looked like they had too much talent to go from first in 1998 to worst in 1999, it's happened.
Last weekend's 55-7 annihilation at Oregon State put the rest of the Pac-10 on notice.
The Bruins are barely a shadow of the team that went 8-0 in league play last year.
"Well, it's not going very good right now," UCLA head coach Bob Toledo said of the Bruins' season. "We've lost our last couple games. We got shut out against Cal (17-0) two weeks ago. We just had an awful performance last week against Oregon State. We got beat as bad as we've been beat in 69 years."
UCLA's problems this season have been a combination of new players not stepping up and older players going down with injuries.
"We're a very young, inexperienced football team," Toledo said. "We're a beat up football team. Three of our scorers are out. We lost (wide receiver) Brian Poli-Dixon earlier in the year. (Receiver) Danny Farmer's played very little. DeShaun Foster, our tailback, has not played in several weeks. They scored 31 touchdowns last year. We're playing with basically a freshman offensive line and a freshman quarterback and a freshman secondary."
Freshman quarterback Cory Paus has taken much of the heat for the Bruins' problems, as he and junior Drew Bennett haven't exactly made anyone forget about current Chicago Bear Cade McNown.
But Toledo isn't blaming Paus for all of the team's problems.
"Well, I'd say that's part of it. But we've also got two freshman offensive linemen playing, we've got a sophomore center," Toledo said. "We've got some receivers that are banged up. We're struggling with a bunch of guys, not just the quarterback."
Tomey said he understands what Toledo is going through. Arizona was in a similar situation back in 1996 when a freshman named Keith Smith emerged as UA's starter but couldn't get the team over the .500 mark as the Wildcats finished 5-6.
"Anytime you have a young quarterback you are going to have some inconsistency on offense," Tomey said. "It's a hard position and there is no training manual for a quarterback. You just need to get in there, get knocked around, and win some and lose some."
The Bruins' offense is off from last year. UCLA is averaging only 24.1 points per game and 349.3 yards per game, as compared to 39.7 points and 487.3 yards in 1998.
UCLA's defense collapsed at the end of last year, as it gave up 87 points in its two losses to Miami and to Wisconsin in the Rose Bowl.
It hasn't gotten much better this year, giving up 30.1 points and 454.6 yards per game.
Toledo has had to adjust to the times, and it hasn't been easy.
"Well, I tell you, I've tried different things," he said. "When we lost to Cal, I got them out there and we scrimmaged and got after them pretty good. After this week, I'm trying to convince them that they're a pretty good football team, and that the things we're doing are right, we've just got to do them better."
Tomey said that the Wildcats aren't about to overlook the Bruins completely, though, especially not after losing at home to Oregon.
"They have suffered through an embarrassing couple of weeks," he said. "This is a pride game, and it is a matter of which team can resurrect themselves."