Second to None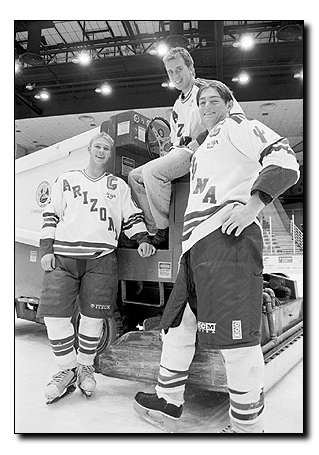 Matt Heistand
Arizona Daily Wildcat
Junior center Marc Harris, junior right wing Mike Graves and junior left wing Paul Dorn pose with the Zamboni at the Tucson Convention Center. Harris, Graves and Dorn hope to lead the Icecats to a second national club hockey title this season. They take on USC on Friday and Saturday at 7:30 p.m at the TCC.
It is Friday night at the Tucson Convention Center, and the referee signals it is time for the faceoff. Junior center Marc Harris skates up and swipes at the puck, pushing it back to junior right-wing Mike Graves, who brings up the puck along the boards. Graves, hesitates, drawing the defender away from the goal, then slides the puck across the goal finding junior left-wing Paul Dorn, who finds the back of the net.
This has been a familiar scene for Icecats fans, who have witness the trio of Dorn, Graves and Harris in action for the past three seasons.
The high-scoring trio of 20-year-olds accounted for 50 percent of the Icecats' goals last season, scoring 92 of the team's 188 goals.
Two of the three know each other better than perhaps anyone in collegiate club hockey as Dorn and Graves both come to Arizona after growing up in Pennsylvania, where they played together.
"Playing in high school together really helps them, because they know each other's moves very well," Icecats head coach Leo Golembiewski said.
Three years of playing together helps as well.
Off the ice, the Icecats coaching staff looks to the three to provide leadership for fellow teammates.
Harris and Dorn were selected as co-captains for this season along with junior defenseman Tyler Brusch.
"They are team leaders, and they lead by example," Golembiewski said.
Anyone looking for a superstitious athlete can look no further than Dorn, who along with always being the last Icecat on and off the ice, spends each home game taping his sticks in the same seat and section.
Graves and Harris adopt the more lackadaisical approach to preparing for a game.
"I don't like to think about the game before hand, I just like to keep loose," Graves said.
The trio is looking for big things from this year's squad, with an upcoming match against Penn State the proving ground for the mettle of this young team.
"I would love to beat Penn State this year," Dorn said.
Returning almost all of last year's squad, who finished fifth in the American Collegiate Hockey Association tournament, helps place belief in the Icecats hopes of going deep into this year's tournament.
"We have a lot of kids from last year, so every one should step up a little bit," Graves said.
The Icecats coaching staff has faith in the talent of the top line to lead the team.
"Dorn is a highly talented individual, he has impressive moves and good lateral movement," Golembiewski said.
"Harris is another great player, and a magician with the puck. He also has a tight wrist shot, which makes him very dangerous. Graves is a great stick handler."
Overall, playing hockey in the desert has worked great for the three, but Dorn had to do some convincing to get Harris to come to Arizona.
"I wasn't sold on the idea until I came out here," Graves said. "The weather definitely helped."
After playing with the coach for a few hours, Dorn and Graves were sold on coming to Arizona.
"Coach didn't see me play, so I had to recruit them (Arizona)," Harris said. "It worked out well because I came out for the weather and the ladies anyway."
Whatever their path, Icecats fans can look forward to two more seasons of high octane hockey with this trio.