Reggae Cowboys set to rock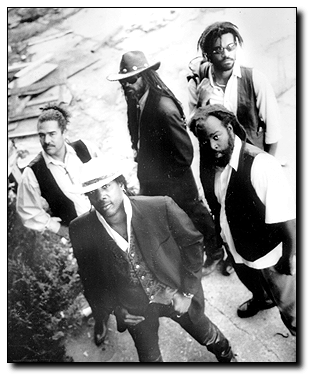 Arizona Daily Wildcat
The Reggae Cowboys will debut at Club Congress on Friday.
Reggae
A popular music of Jamaican origin that combines native styles with elements of soul music and is performed at moderate tempos with the accent on the offbeat.
Cowboy
(1) a hired man, esp. in the western U.S., who performs most of his duties by horseback (2) a term often associated with independence and strong will, a maverick.
It may very well seem like an odd combination, but surprisingly, the Reggae Cowboys, who will debut at Club Congress on Friday, pull it off without a hitch.
The group, whose second album Rock Steady Rodeo incorporates the music of classic reggae with the subject matter of the old west, is made up of Stone Ranger (lead vocals, guitar), Click Masta Sync (lead vocals, rhythm guitar), Marshall King (keyboards, backing vocals), Gully (bass), and The Hitman (drums).
The quintet from Toronto develop and embrace a fresh sound that not only blends reggae and country, but also implements familiar sounds of blues, R&B and jazz.
With songs with titles like "Geronimo," "Gold Rush," and "Wild West Indian," it's easy for one to quickly dismiss the band as nothing more than a country ensemble that never grew out of the "I want to be a cowboy when I grow up" stage. However, Stone and co. have a lot more to offer. On the song "Because of the Gun," Stone sings about the contemporary and lethal problem of drive-by shootings.
Instead of merely looking at the social issues of the old west from one perspective, the Cowboys dissect the historical situation that not only surrounded and affected the settlers of the era, but also the Native Americans and even nature before it was destroyed by the conflicts that took place. This take on the old west leads to a well-rounded and very introspective album.
Another highlight of the album is a cover of Bob Dylan's immortal song "Like a Rolling Stone." And instead of using a cookie cutter approach and merely re-hashing the song, the Reggae Cowboys put a new and innovative spin on the song with their unique style.
Rock Steady Rodeo is something all reggae fans will enjoy, and if your mind is open, the Reggae Cowboys can, without a doubt, bring about a deeper understanding and appreciation of reggae, country, blues, R&B and jazz.
The Reggae Cowboys perform at Club Congress (311 E. Congress St.) tonight. Tickets are $5 at the door, the show starts at 9 p.m.