Wildcats split up for scrimmage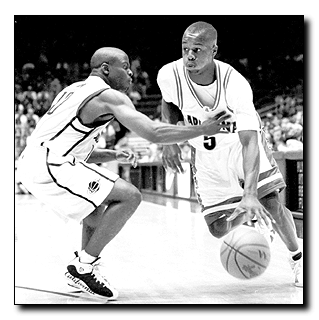 Wildcat File Photo
Arizona Daily Wildcat
Sophomore guard Ruben Douglas drives to the hoop against a California defender last year. Douglas will be a member of the red team tonight as the Wildcats play the annual Pepsi Red-Blue scrimmage, which is the fans' first opportunity to see the 1999-2000 men's basketball team in action.
The UA men's basketball team gets a chance to show the public just how deep its squad is tonight at the annual intrasquad scrimmage.
The Pepsi red-blue game begins at 7 p.m. at McKale Center.
Leading the red team, coached by associate head coach Jim Rosborough, will be junior center Loren Woods, sophomore forwards Michael Wright and Rick Anderson, sophomore guard Ruben Douglas and redshirt senior forward Eugene Edgerson.
Since he will be redshirting for the 1999-2000 season, Edgerson will make his sole appearance during tonight's game.
The blue team is led by sophomore forward Richard Jefferson, freshmen guards Jason Gardner and Gilbert Arenas and redshirt freshman forward Luke Walton. Assistant coach Rodney Tention will be on the sidelines leading the blue team.
Junior guard Lamont Frazier and freshman guard Mike Schwertley will play for both teams.
"Fans are going to be anxious to see the team, but this is also a very valuable game for us," head coach Lute Olson said. "It's good to get them into a game-like situation. You can scrimmage on Saturdays, but it is not the same as being under the lights and in an evening game situation."
Pacific 10 Conference referees will also be on hand, as they were during Saturday's closed scrimmage. Olson said the team had a productive week of practice last week, but it's hard to see how good they are when they are going up against themselves.
Wright agreed.
"I'm ready for the real show," he said. "This will give the younger guys a chance to get used to the fans."
Fans will also get a chance to see junior forward Luke Recker, who will sit out after transferring from Indiana. Recker, who is still not cleared to play full-court until he gets the mobility and strength back in his left wrist, will make a "cameo appearance," according to Olson.
Tickets cost $3 and all seats are general admission.