ASU's Redmond suspended by NCAA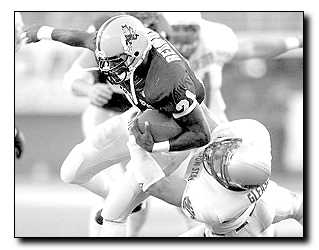 Wildcat File Photo
Arizona Daily Wildcat
Arizona State's J.R. Redmond is brought down by Washington State's Steve Gleason during the first quarter at Sun Devil Stadium on Saturday, Oct. 23. Redmond was suspended by the NCAA last Friday, for Saturday's game against Oregon as the result of a bizarre situation that involved his marriage to a student who worked part-time in the Sun Devils' athletic department.
Preseason Heisman Trophy hopeful J.R. Redmond was benched during Arizona State's game against Oregon amid a controversy involving a wife, a cellular phone and a conflict of interest.
Redmond had to serve a one-game suspension from the NCAA for "receipt of extra benefits from an institutional employee not authorized by NCAA legislation," according to NCAA bylaws.
Redmond used a cellular phone from an ASU employee during the month of August. The woman then told Redmond that he would be suspended or lose his eligibility unless they got married- they did on Aug. 25.
The NCAA ordered Redmond to pay the phone charges and serve 20 hours community service.
He will be eligible to play in this Saturday's game against USC.
Washington quarterback Marques Tuiasosopo passed for 302 yards and ran for 207 to hand the Stanford Cardinal their first conference loss of the season, 35-30.
Stanford (5-3, 5-1 in Pac-10) and Washington (5-3, 4-1 in Pac-10) are the only Pac-10 teams with one conference loss a piece and the Huskies are the only team that controls their own destiny. If they win the rest of their remaining games, they will go to the Rose Bowl for the first time since 1993. Stanford, on the other hand, needs a Washington loss and an undefeated remainder of the season to go to Pasadena, Calif.
Tuiasosopo's 509 yards of total offense set a school record.
Washington trailed Stanford 23-12 in the second half, but scored 23 unanswered points for their first lead of the game at 9:54 in the fourth quarter.
Oregon's predilection for close games has resulted in two three-point losses for Arizona teams in consecutive weeks. After besting UA 44-41 on Oct. 16, Oregon handed ASU a 20-17 loss Saturday.
ASU scored with 1:04 left to go up 17-13, but with nine seconds left, UO quarterback Joey Harrington threw a 29-yard touchdown pass to Marshaun Tucker for the victory.
Oregon running back Reuben Droughns was again a workhorse for the Ducks, rushing for 188 yards on 37 carries.
Despite the win, a quarterback controversy looms for Ducks coach Mike Bellotti who pulled struggling starter A.J. Feeley for Joey Harrington. The two quarterbacks usually platoon but Harrington has been more effective in the past two games.
Oregon State head coach Dennis Erickson returned to his old stomping grounds on Saturday and beat his former team, the Washington State Cougars, 27-13.
OSU (5-3, 2-3 in the Pac-10) had not won in Pullman in 21 years, but a gutsy performance from injured Pac-10 leading rusher Ken Simonton led the Beavers to victory.
Simonton sat out the first half with a rib injury and WSU was able to contain the Beaver attack. But on the second possession of the second half, Simonton returned and went on to rush for two touchdowns to cement the victory.
Simonton's two-touchdown performance gave him 168 career points and tied him for first on OSU's all-time scoring list.