Wildcats rally to defeat ASU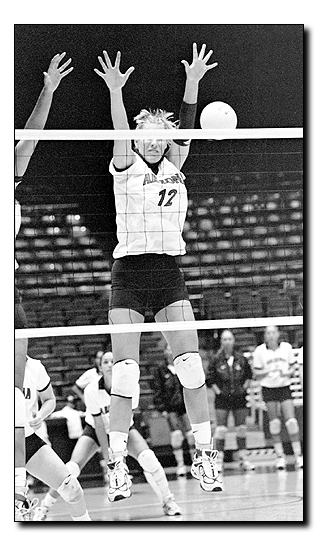 Wildcat File Photo
Arizona Daily Wildcat
Junior middle blocker Marisa DaLee and senior outside hitter Alison Napier go up for a block against USC earlier in the season. The Wildcats went to Tempe on Saturday night and got what they needed -Řa victory over the Sun Devils to get them back on track in the Pac-10 race.
The UA women's volleyball team avoided a season sweep at the hands of Arizona State with a 15-11, 15-5, 8-15 and 15-5 victory in Tempe on Saturday night.
Junior middle blocker Marisa DaLee led all scorers with 16 kills and a .481 hitting percentage from the field.
"Marisa is always extra motivated against ASU," UA head coach David Rubio said. "Her dad played football here, her mom graduated from here and she grew up in Phoenix. I think she knows the rivalry well."
According to Rubio, the key to UA's success against ASU was the play of its defensive specialists as in Saturday's match in which freshman Rachel Williams had 14 digs.
"Rachel had a great night," Rubio said. "She found ways to get the job done despite only playing three rotations."
Williams has become the team's primary option at the defensive specialist position following the departure of junior Nicole McIntyre, who left the team a week ago.
"We knew Rachel was good, but she has had a knee problem," Rubio said. "When Nicci quit the team, Rachel got the green light from the trainer and has been playing well for us."
Junior Elvina Clark, who logged five digs against the Sun Devils, is one of the team's biggest success stories as well.
The 5-foot-6 walk-on from Kayenta, Ariz., grew up on the Navajo Reservation.
"Coming from a small town where my high school graduating class was 200 people, it was a real culture shock coming to UA," Clark said. "The library was larger than my high school."
Rubio claimed that most of the bad blood between ASU and UA has been overblown.
"Most of the things regarding any kind of bad blood have been media-fueled," he said. "(ASU coach) Patti (Snyder-Park) talked about us having a lack of respect for the win they had over us last month, but I think winning adds to our legitimacy."
Prior to last month's four-game loss to ASU, Snyder-Park claimed, in an interview with a Phoenix newspaper, that UA had little team chemistry due to their relative inexperience.
Rubio downplayed anything bitter between the two teams.
"I think it is a tremendous in-state rivalry," he said. "I tend not to get as worked up over it as the players do. Obviously, we want to cut their hearts out when we're playing them, but when the match is over, I have tremendous respect for their program and the rivalry."