Telling the NBA future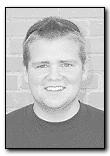 Wildcat File Photo
Arizona Daily Wildcat
Keith Carmona
With the NBA season starting today, basketball fans are asking numerous questions that (with apologies to Chris Berman) the Arizona Daily Wildcat Swami can answer.
Q: Can Phil Jackson really suppress the egos of Kobe Bryant and Shaquille O'Neal to lead them to the promised land?
A: Yes, the Zen-Master was able to coordinate a team that included the best player in basketball history and another included in the NBA's 50 greatest. The real question is if Jackson can beat his own record of 72 wins.
Q: What player might I not know about, but certainly should?
A: New York Knicks' point guard Charlie Ward. He was the Heisman Trophy winning QB from Florida State, but now he is dishing it out to one of basketball's most potent offenses. Someone has to get the ball to Latrell Sprewell, Allen Houston and Patrick Ewing, Ward is that man, and he does it in sensational ways.
Q: What NBA team will be this year's equivalent to the St. Louis Rams?
A: The New Jersey Nets. The inside-outside combination of Keith Van Horn and Stephon Marbury is almost unheard of. When the Nets add Jayson Williams in the midseason, New Jersey will be nearly unstoppable.
Q: Last year's rookies Jason Williams and Vince Carter were veritable highlight reels, what 1999-00 rookies have the potential of doing the same?
A: Shawn Marion and Lamar Odom. Marion was the biggest surprise in the preseason, lighting up all-star veterans night after night, while Odom has the skills to turn the Clippers into playoff hopefuls.
Q: Can Jason Terry pan out as a formidable replacement for Mookie Blaylock in Atlanta?
A: Terry's skinny build is hardly one of an NBA point guard, and his arrogant attitude has the possibility of getting him in trouble, to boot. Look for Bimbo Coles to take over starting role.
Q: What team is bound to be the league's biggest bust?
A: The Portland Trailblazers. Scottie Pippen has been going on a tirade lately. First, Charles Barkley, then Hakeem Olajuwan, it's only time before he begins railing on his current team. Like he did last year, Pippen will fragment a team loaded with talent, plunging their title hopes down the toilet.
Q: Though it has become an NBA clich­ lately, who is the new Michael Jordan?
A: Kevin Garnett. The guy has the ability to take it to the hoop, make the outside shot and pull down rebounds as well as anyone else in the league. Not to mention that his steal and block numbers aren't so bad either.
Q: The NBA doesn't really interest me, but is there anything this basketball season that I may find entertaining?
A: "My Giant," Gheorghe Muresan, the 7-foot-7 Romanian is once again ready to resume trampling over point guards and slam dunking without leaving the ground. The tallest player in NBA history is fun to watch, no matter what environment he's in. Put him on a basketball court, and it just gets better.