ASUA Senate approves Supreme Court justices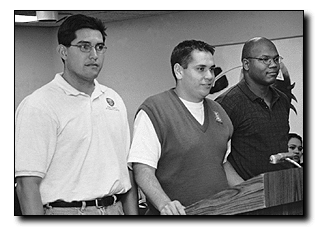 Eric M. Jukelevics
Arizona Daily Wildcat
ASUA President Cisco Aguilar (middle) introduces two of the three new appointees to the ASUA Supreme Court Richard J. Suzuki (left) and Augustus M. Shaw IV (right) at the Senate meeting last night. The third appointee is Dara L. Spiro.
UA student body President Cisco Aguilar introduced two of the three newest members of the ASUA Supreme Court, who were promptly voted into office by the senators at last night's ASUA Senate meeting.
Richard Suzuki and Augustus Shaw IV, both second-year University of Arizona law students, said they thought that holding seats on the Supreme Court would be a valuable learning experience.
"I've always wanted practice in writing judicial opinions," Shaw said. "This position will give me an opportunity to learn."
Suzuki added that working on the Supreme Court will also allow him to help the university.
"I wanted to be on the Supreme Court to be able to draft judicial opinion and to contribute one more thing to the university," he said.
Second-year law student Dora L. Spiro, who could not make the Senate meeting, was also approved as a new justice.
The Associated Students of the University of Arizona Supreme Court consists of five justices. The role of the court is to oversee and enforce the ASUA constitution.
The ASUA president appoints these justices, and the Senate approves them.
Last week, Aguilar appointed second-year law student Robyn Kline to the position of chief justice.
"After I appointed Chief Justice Robyn Kline, I wrote a letter and submitted the resumes to ASUA," Aguilar said. "Then we met and discussed the resumes and decided upon who to interview."
Along with Aguilar, ASUA Sens. Shane Brogan and Tiffany Podbielski interviewed the five potential justices.
"There were between eight and 10 resumes, and we narrowed them down to the five that we felt should be interviewed," Podbielski said.
Brogan said that he was impressed by the appointees' interviews, and that it was obvious that the three would work together very well.
"I was impressed with their ability to articulate an opinion on the spot when asked a question," Brogan said. "They both have tons of experience working with others and communicating in groups."
The new justices said working together would not be difficult because they already know each other.
"It's going to be easy. We are all in the same class, so we already know each other," Shaw said.
Aguilar stressed the importance of proper group communication between the justices, and that it had a large effect on his and the senators' decisions.
"We also wanted a group that we felt would work well together and get things done in a timely and efficient way," he said.
Of the new justices, only Spiro received a degree from another university. She said that she was interested in the Supreme Court seat because of her experience during her undergraduate years.
"I was really active in the judicial system at my previous school, Indiana University," she said.
She was the vice-chairperson of the Indiana University Campus Judicial Board, where she facilitated student disciplinary hearings. She also interviewed students who were charged with Code of Student Ethics violations.
She is a criminal justice graduate with a cumulative Grade Point Average of 3.86 from IU.
Shaw, who graduated with a political science degree in 1996, also has extensive legal and political experience.
He was an office intern for Sen. John McCain, R-Ariz., for five months where he communicated with constituents on behalf of the senator.
Suzuki, a Mexican-American studies graduate, brings a long background in public service to the Supreme Court.
During his undergraduate years, Suzuki worked for The Boys and Girls Club, Big Brothers Big Sisters, Ronald McDonald House and Tucson Parks and Recreation. He helped organize and implement various fundraisers and philanthropy events for children.