Prof: The Three Stooges hold political, social value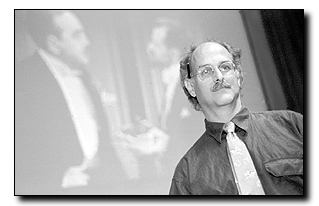 Joshua D. Trujillo
Arizona Daily Wildcat
Classics Professor Jon Solomon stands in front of a screen showing episodes of The Three Stooges yesterday at the Center for Creative Photography. Solomon gave a presentation about the social and cultural significance of The Three Stooges television show.
American icons are as diverse as the people who revere them.
So, could the famed comedy team the Three Stooges keep company with such major figures as Elvis Presley, Marilyn Monroe and Franklin Roosevelt?
Jon Solomon, UA classics professor, said the Three Stooges hold a social and political value that reaches beyond food fights and eye poking.
Solomon is a scholar of Greek mythology as well as Larry, Curly and Moe - and Shemp. He discussed the deeper meaning of The Three Stooges' slapstick comedy yesterday in a speech titled "The Three Stooges in Cultural Context" before more than 100 people at the Center for Creative Photography auditorium.
"(The Stooges are) an incredible cultural icon. There is no phenomenon like the Three Stooges," Solomon said.
He said, in the Stooges' 40-year career, they made 220 short and feature films - each one more intellectual than the exaggerated head-bonking would belie. References to the social and political conflicts of the times, as well as allusions to Shakespeare, could often be found in the Stooges' films.
Although he noted that the Stooges were "incredibly politically incorrect," Solomon illustrated the troupe's attention to current political events with clips from their movies, dealing with such themes as the Cold War, the New Deal, and even the Axis powers of World War II.
The Stooges - who were all Jewish - were especially sensitive to the Nazis' mistreatment of Jews, Solomon said. Their film "You Natzy Spy" was the first Hollywood production that criticized Adolf Hitler.
Despite their controversial material and extensive use of slapstick violence, Solomon said the Stooges appealed to audiences because they successfully toed the line between tragedy and comedy, bringing out the humor in simple acts such as slipping on a wet floor.
They also lightened the mood of any potentially uncomfortable situation with their own brand of Stooge humor, Solomon said.
"In the world of Stoogedom, everybody becomes a Stooge," Solomon said before a backdrop of the Stooges inciting a cartoonish slap-fest at a high society party.
Solomon, a member of the Pop Culture Association, said he became interested in the extensive study of the Stooges about seven years ago. He and a few humanities colleagues teamed up to put together a presentation on the Stooges in a greater cultural context.
The Three Stooges' management was impressed and contacted Solomon and offered him a book deal, and another area of Solomon's expertise was born.
As a devoted fan, Solomon said he enjoys the Stooges as a collective.
"Probably Curly," he said, naming his favorite. "But to me they're a trio."
Architecture junior A.J. Gust came to the speech because he had taken Solomon's Greek mythology class and knew he was a good speaker.
"It was definitely a different perspective than what you're used to - it adds some depth to the Stooges," he said.
Danielle Licht, an interdisciplinary studies sophomore, agreed. She said she watched Stooges movies often as a youngster, but had never thought they carried any deep messages.
"It was entertaining," said Licht, who also named Curly as her favorite Stooge.