Huskies looking for revenge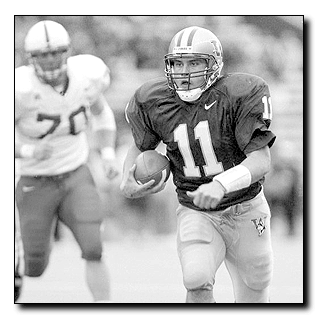 Associated Press
Arizona Daily Wildcat
University of Washington quarterback Marques Tuiasosopo runs away from a Stanford defender during the Huskies 35-30 victory. Tuiasosopo's 509-yard offensive performance for the Huskies was one of the greatest days ever by a college quarterback.
The Washington Huskies' season didn't start all that well.
Despite the hype surrounding new head coach Rick Neuheisel's arrival, UW stumbled and lost to two Mountain West Conference teams, BYU on the road, 35-28, and Air Force at home, 31-21. But the Huskies came from behind to beat Neuheisel's old team, Colorado, 31-24, and with the exception of a 28-7 home loss to Arizona State, Washington has been on a roll.
That roll continued last week when UW (5-3 overall, 4-1 Pacific 10 Conference) defeated Pac-10 leader Stanford 35-30.
"It was an exciting game because as a team we pulled together, and we found a way to win again," Huskies junior quarterback Marques Tuiasosopo said. "(Cornerback) Anthony Vontoure came through with two big, key interceptions that allowed us to get the ball back, to let Mo (Shaw) scamper 45 yards for the win. I love this team, they have no quit in them. We were excited last week, and we have a big one this week."
Tuiasosopo was the primary reason Washington won, though, with 302 passing yards and 207 rushing yards. That's 509 total yards of offense. By one person.
But Tuiasosopo is not fazed by the numbers.
"It doesn't really matter to me," he said. "We won, that's all that matters. I'm happy because it gives recognition to the University of Washington and to the football program. But the key stat to me is that we won the game and we're still alive in the Pac-10 championship hunt."
UA head coach Dick Tomey said the Huskies present a problem for Arizona in terms of their option attack, which is different from the option teams UA has faced recently in TCU and Nebraska.
"They have really made great use of a terrific, versatile quarterback," he said. "I'm not sure if there's anybody in the country who's more difficult to defend because he's got the kind of throwing arm that can be a threat dropping back throwing the ball, and yet they're running the option, which can be a devastating combination."
Tuiasosopo has a number of weapons to get the ball to, including running backs Maurice Shaw (261 yards, 4 TD) and Willie Hurst (522 yards, 5 TD) and wide receivers Chris Juergens (433 yards, 1 TD) and Gerald Harris (479 yards, 3 TD).
While their numbers may not be as glamorous as some of Arizona's more notable players, the Huskies get the job done, especially Tuiasosopo himself, who has 463 yards and five touchdowns rushing and has 130 of 220 passes completed for 1,754 yards and 10 touchdowns. He has, though, thrown 10 interceptions and has a bruised hip which slowed him toward the end of the Stanford game.
"There's been a lot of work involved so far in the three years I've been here," he said. "I've learned a lot. I still have a lot to learn. I still have a lot to improve on passing-wise and decision-making. Coach Neuheisel and his offensive staff have done a great job. I just continue to learn from them each week this year, and I just want to continue to improve."
Defensively, the Huskies have done a good job of stopping the run, ranking fourth in the Pac-10 by giving up only 146.4 yards per game.
But UW has had a problem getting to the opposing quarterback, with only nine sacks, compared to 21 sacks allowed. The Huskies' pass defense ranks eighth in the Pac-10, giving up 261.8 yards per game.
Tomey, though, isn't about to let any of those numbers go to his players' heads.
"Defensively, they have the biggest and most physical front that we've played against," he said. "And (defensive end Larry) Tripplett, who didn't play much a year ago, is the missing piece to the puzzle because he makes them a really strong defense up front."
As a team, Tuiasosopo said, the Huskies haven't forgotten how they lost to Arizona last year 31-28 when UA junior quarterback Ortege Jenkins did his now infamous somersault flip into the end-zone.
"Ortege made a great play at the end of the game," he said. "We had our chances to go ahead and maybe seal the game. We didn't take advantage of that, and Arizona did. I know all offseason long we remember games like that. We want to improve on those situations and make the best of each situation and score when we have to score. That was last year, this is a new year. It's going to be a competitive game."