Pac-10 shows signs of improvement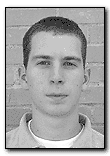 Wildcat File Photo
Arizona Daily Wildcat
Bryan Rosenbaum
The Pacific 10 Conference has been the laughingstock of college football this year, to state the obvious.
Arizona gets pounded by Penn State, UCLA gets manhandled by Ohio State and an assortment of Pac-10 teams fell to Big West Conference foes.
The likes of Stanford, Oregon State and California showing up Arizona, UCLA and Arizona State has been hard to swallow, but even though this year may hurt the conference's credibility in the short run, it will have a positive effect in the long run.
Why?
For years and years, games against teams like Oregon State and Washington State could always be counted on for a win. On any given year, half of the conference was decent, while the other half was clearly inferior.
But parity in college football has slowly crept out to the west coast, improving each team because they can now get their hands on quality players. Instead of USC and Washington being the only perennial powers, everybody can get in on the action. Take Washington State's surprise appearance in the 1998 Rose Bowl.
So while this year might be a down year for Pac-10 football, expect the conference to be a national power over the long haul. The Big Ten and Southeastern Conferences all had periods where they weren't as good as they should have been, but now they are the premier football conferences in the country.
Purdue, Wisconsin, Northwestern and now, Minnesota, have all had their moments in the 1990s. Only Indiana has been left out, but with Antwan Randle-El at quarterback, they are not out for long.
A couple years ago, who would have imagined that Purdue would not only be this good, but have a Heisman Trophy candidate in Drew Brees? Northwestern in the 1996 Rose Bowl? The Badgers in the 1994 and 1999 Rose Bowls?
Give me a break.
Even though UCLA and USC aren't having great seasons, it's hard to believe that they'll be down too much longer. Washington has a new coach and a new look with Rick Neuheisel, while Oregon has shown that they can be consistent over a long period of time.
Arizona and Arizona State have been near the top for the last couple years and are just starting to get the attention they've been deserving, and California has built a solid team with a ferocious defense.
And who would have picked Stanford to do this well?
So even though Pac-10 may not have the most glamorous representative in Pasadena this year, the conference will be more competitive than ever in the next coming years. It already is, considering the dogfight for the championship this year.
So hang in there, Pac-10 fans. The conference's time will come.