Javtokas welcomes his countrymen to McKale Center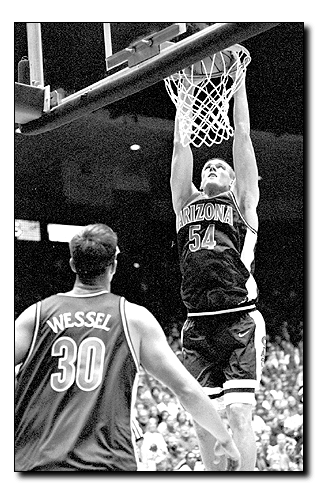 Ian C. Mayer
Arizona Daily Wildcat
Freshman center Robertas Javtokas dunks the ball during Tuesday's Pepsi Red-Blue Game. Javtokas, a native of Lithuania, welcomes his countrymen as the Wildcats host Alita of Lithuania in an exhibition game at 3 p.m. Sunday at McKale Center.
As the UA men's basketball team prepares for its first exhibition game against a Lithuanian club team, one Wildcat will have a little more motivation to show up the opposition.
Freshman center Robertas Javtokas, a native of Siauliai, Lithuania, will be playing against former friends and countrymen when Arizona takes on Alita on Sunday afternoon at 3 p.m. at McKale Center.
This marks the second straight year Arizona has played a Lithuanian club team in an exhibition. Last year, the Wildcats defeated Sakalai 72-64 in a lackluster performance.
Alita is 3-6 on their U.S. tour.
"We really kind of did it for him (Javtokas)," associate head coach Jim Rosborough said. "Just in case he wants to stay up with them for all hours of the night, I guess we'll have to put a curfew on him."
The 6-foot-10 Javtokas said he would take some of the Alita players out and show them around Tucson because it will be good for him to be around his countrymen.
"I'm real excited, I want to see them," Javtokas said. "When the coach recruited me, he told me we played a Lithuanian team last year, and we would again this year.
"I know one guy on their team. I played against a lot of them when I was younger, and I know them just from playing. I don't know all of them personally, though."
Javtokas had to sit out his senior year at St. Vincent/St. Mary's High School in Akron, Ohio, after transferring from Bishop-McGuiness High School in Winston-Salem, N.C. He was still able to practice and spent the summer playing with the Lithuanian National Team.
Using the year at St. Vincent/St. Mary's allowed him to concentrate on learning the English language and qualify academically for college. In all, he speaks four languages.
So far, he's trying hard to adjust to classes taught in English at the UA, but says his teammates and coaches have done a good job making him feel welcome.
"So far, it's going good," he said. "School is hard because I'm not from here, but so far, I like the basketball and how we work. Everyone is real nice. Just helping me out."
Javtokas was a pleasant surprise at the Pepsi red-blue game on Tuesday, scoring 12 points on six-of-six shooting. All of his baskets were dunks, but Javtokas got himself open and in a position for easy buckets.
"Robertas' advantage is that he is big and is not going to get pushed around down there," head coach Lute Olson said.
Another advantage he has is going head-to-head against junior center Loren Woods every day in practice.
"I knew when I came here, I'd have good players to play," Javtokas said. "That makes me better, playing better players."