Penn State has Arizona's number again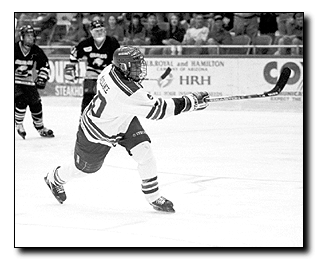 Joshua D. Trujillo
Arizona Daily Wildcat
Junior right winger Kyle McNeilance shoots in an earlier game against Colorado. McNeilance scored a goal in Arizona's 6-4 loss at Penn State Wednesday night. The Icecats face West Chester (Pa.) tonight on the road.
Ask any hockey coach and the they will tell you that power plays are the key to any good hockey team.
Unfortunately for the Icecats, Penn State capitalized on Icecat penalties for four power play goals in a 6-4 win Wednesday night.
The Icecats coaching staff were not upset by the penalties themselves, but the manner in which they were called.
"We definitely had some interesting officiating Wednesday night," Icecats head coach Leo Golembiewski said. "At least this game proved to the team that we can skate with anyone."
At even-strength, the Icecats proved to be powerful foes for Penn State, jumping out to an early 2-1 lead at the end of the first period.
Another quick Icecat goal early in the second period put the lead at 3-1, but penalties soon started piling up. Two more Penn State goals in the second left the score at 3-3, with the Icecats having to fight off power plays for most of period.
An early goal in the third made it 4-3 Penn State. Then two turns of bad luck did the Icecats in.
A coughed up puck by senior goalie Mark Meister put the score at 5-3, and a breakaway by junior right wing Paul Dorn was stopped by Penn State's goaltender. Another Nittany Lion goal put the final nail in the coffin.
Marc Harris led Icecats scorers with two goals, including the first one to open the game.
The Icecats continue their road trip by taking on West Chester (Pa.) and Scranton (Pa.) Friday and Saturday night.
Some more bad news for the Icecats centers around left wing Mike Graves, who will be out 4-6 weeks with an injured wrist, although the coaching staff is waiting to get a second opinion.
Despite the scoreboard, Golembiewski felt the performance was a strong one from his squad.
"This game proved to the team that we can contend for a national championship," he said. "For the long day of travel before hand, they came out and played a great game, if it was even-strength we would have beaten them 2-1."
Sophomore goalie Jason Morgan will start against West Chester tomorrow, but Golembiewski still hasn't determined who will start Saturday.