Banged up volleyball team heads north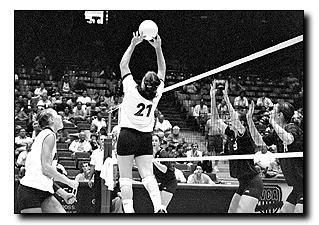 Aaron Farnsworth
Arizona Daily Wildcat
UA sophomore setter Dana Burkholder (21) sets for junior middle blocker Marisa DaLee in a recent home match. The Wildcats travel to the Pacific Northwest to take on Washington and Washington State this weekend.
The UA women's volleyball team is feeling under the weather and banged up after losing three of their last four matches.
However, No. 19 UA needs to sweep Washington and Washington State on the road this weekend to keep their Pacific 10 Conference title hopes alive.
A four-game victory over Arizona State last weekend sparked UA's dimly flickering title chances. Despite the fact that the Wildcats swept both Washington schools at McKale Center earlier this season, UA head coach David Rubio is hardly cocky going on the road.
"We have to guard against a let down this weekend," he said. "Some of the kids are tired, a little sick from what's been going around. Despite that, we need to make sure we play solid volleyball."
Considering the caliber of teams UA has been facing in the past two weeks, the Huskies and Cougars should be a welcome break. Three of UA's last four opponents have been nationally ranked, as the Wildcats fell to No. 18 USC, No. 7 UCLA and No. 8 Brigham Young.
Earlier in the week, Rubio claimed that few matches can be taken lightly by the young Wildcats.
"Talent-wise, we can compete with anybody," he said. "But on the other side of the coin, we can lose to anybody."
The Huskies (8-13 overall, 4-9 Pac-10) have played in the middle of the pack in the conference for the past few years. Despite losing just two letterwinners from last year, Washington is towards the bottom of the conference, yet again this season.
If history means anything, UA should have the advantage.
The Wildcats set a single-game hitting percentage against UW on Oct. 7, hitting an astounding .842 in game two. Wildcat attackers were 16-of-19 from the field, setting a school-record for hitting percentage in a single game.
The Cougars (11-10, 5-8) fell just as easily to the Wildcats last month, losing in three games. Washington State is playing without four of last year's six starters and has yet to pose a threat to any of the upper-tier conference schools.
Despite having what appears to be an easy weekend on their hands, Rubio takes nothing for granted.
"I'm sure they've improved since we've played them," he said. "(But) we've improved just as they have. If we're on top of our game, we won't need to worry."
In order to win, the Wildcats cannot let themselves be overcome by any one individual player. UA has let solid individual players dominate them all season. UCLA's Kristee Porter recorded 36 kills against the UA on Oct. 22, the largest amount of kills allowed in UA history.
With two must-win matches ahead of them, one would think the Wildcats would be motivated enough to overcome their respective ailments. However, the Wildcats are a young team that carries just four upperclassmen, and only one of them (outside hitter Raelene Elam) is a senior. With youth often comes inexperience and inconsistency.
"I'm pretty sure they'll be motivated this weekend," Rubio said. "They are young, though. You never know."
Aside from the colds and aches, the banged-up Wildcats may have to play this weekend without the aid of freshman outside hitter Stephanie Saragosa, who has been nursing shin splints. Her status will be a game-time decision.
"Even if, for some reason, she can't go, I feel good," Rubio said. "Even though we're young, we're deep. I'm confident that Erin (Sebbas) or Ali (Napier) can step in and help us out. They've both had great weeks of practice."