A homecoming for everyone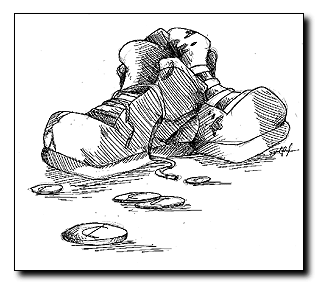 Arizona Daily Wildcat
Homecoming Weekend was a celebration for everyone. Barbecues were seen all over campus, such as the one in front of Arizona-Sonora residence hall on Saturday. This hall, home to 500 UA students boasted a free pre-game lunch, and dozens of friends and families enjoyed the free food.
Also enjoying the barbecue was a homeless couple standing nearby with one shopping cart filled with their every possession.
Yes, Homecoming weekend was a celebration for everyone.
The only difference is, this meal was a highly unusual treat for two of Tucson's most indigent; it was not a celebration of coming home, but rather a harshly realistic example that they did not have a home.
It is a reality that Tucson's newly elected leaders must give some attention to, though they overlooked it during the recent campaigns.
CAP water, though a vital issue, dominated much of the discussion during the campaign. All the fuss over it along with Rio Nuevo and other city expansion projects overshadowed some of the city's most pressing issues, such as homelessness, poverty and the starkly polarized economic status of Tucson residents.
Democrat Molly McKasson, who lost the mayoral race to Republican Bob Walkup, had the right idea in some respects. Her plans to reinvest in inner-cities were ignored by an electorate that is focusing largely on economic issues. While her criticism of urban sprawl was not necessarily fair, McKasson's ideas for improving current situations were worthy of merit.
The difference between the areas that gave their vote to McKasson and those that gave their vote to Walkup reflect Tucson's economic polarization. Poorer neighborhoods inordinately voted Democrat, while Walkup received his vote from newer, wealthier neighborhoods.
Neither McKasson's nor Walkup's campaigns were able to give enough attention to both the need for expansion and the need for helping the city's poor. Hopefully, Walkup will be able to see beyond the needs of merely his supporters and understand the need to improve conditions for the city's poorest citizens.
Sharon Chadwick, leader of the greater Tucson Neighborhood Coalition, said, "The people who live in the new neighborhoods just don't get it as to what's happening (in poorer areas of Tucson), and that's too bad."
True, economic issues are of great importance to Tucson. Plans to expand economically will help the city in countless ways.
But the city's focus should not be one-sided. Besides planning to build up the city's economic base, Tucson's newly elected officials must address the issues already pertinent to the city.
Having a home is a basic necessity for everyone; it is the responsibility of the city's elected officials to help all of its citizens do this.
To balance pursuing new developments with improving current conditions that plague the city is the key to Tucson's future.
This Homecoming weekend was a celebration for many former and current Tucsonans who consider Tucson their home. But for many the city's poor, it was an opportunity for a free meal. Our celebration was a sad reminder of the reality of many Tucsonans' lives, a reality that we ignore every time we hear another request for "spare change" outside of Texaco.
This reality must be addressed by the city's new government. Reinvesting in the city's poor is just as critical as investing in Rio Nuevo.
We must create a city in which everyone can have a home.