UA fair exhibits diverse student works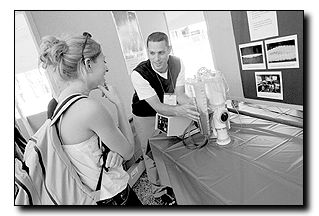 Kristy Mangos
Arizona Daily Wildcat
Pharmacology graduate student Manny Albino explains his progress with developing an artificial lung to biology sophomore Sage Oexman Friday at the Student Showcase 1999 held on the UA Mall. The seventh-annual showcase was presented by the Graduate and Professional Student Council.
UA alumni were exposed on Saturday to a spirited parade, an eclectic mix of organizations and the estradiol effects on acetylcholine output in the hippocampus during spatial learning in female rats.
That last one came courtesy of Lisa Marriott, a graduate student, who won first prize in the graduate life sciences category at the University of Arizona's Student Showcase 1999 for her project. Student Showcase, now in its seventh year, gives undergraduate and graduate students an opportunity to exhibit their works to the public.
"It is a great way for students to show their research to the community. It (Student Showcase) has a lower stress level than professional conferences," said plant sciences graduate student Kelly LeFevre, a judge at the event.
Student Showcase, presented by the Graduate and Professional Student Council, awards more than $9,000 in cash prizes to the winning exhibitors. The awards are divided into categories of undergraduate and graduate, and then further by department.
The projects, including more than 100 exhibits, were judged on quality of presentation, academic merit and value to the community.
Among them was Sofia Herrera, a painting and graphic design senior, who presented a series of artwork under the theme "Tucson: A Mosaic of Cultures." Her work made use of the old medium of oil paint and new computer technology "to talk about Tucson past and present, the old and the new combined."
The works began as photographs which were then scanned into a computer. After being enhanced by the computer, the pictures were printed out on a special canvas made for inkjet printers. Herrera then painted over the photographs in photorealistic detail.
The works represent the diverse culture that is Tucson. Her paintings show one wall advertising that "Happiness is Submission to God" while a bench makes the opposing assertion that "Happiness is a Positive Cash Flow."
Of the event, Herrera comments, "You get a lot of exposure. You get feedback which is great for an artist. It is chance to talk to the community and explain your work."
Student Showcase also featured scientific work. In the Life Sciences category, Donny Dal Ponte, Kameha Kidd and Stuart K. Williams of the Biomedical Research Laboratories of the Physiological Sciences Graduate Program, presented their innovative research into the use of cancer to improve the function of man-made blood vessels.
The actual science behind the project is complicated, but the main idea is that since synthetic blood vessels lack the necessary concentration for ideal function, cancer can be used to increase that concentration. Tumors need blood vessels in order to grow, so they contain factors that increase the number of blood vessels.
"We are capitalizing on the fact that tumors promote the growth of blood vessels. We are then using that in another area where we want to generate blood vessel growth," said Kidd, a third-year physiological sciences graduate student.
The technique does not entail giving a patient cancer, but rather isolating the necessary proteins in tumors that will assist in the function of the man-made blood vessel.
Student Showcase also housed sociological exhibits. Among them was a project by Ph.D. candidate in Family Studies and Human Development Michelle Neiss, working under Dr. David Almeida, that looked at the influences that genetics has on mood.
The study looked into how much genetics played a role in the mood of young people versus their older counterparts. Older adults, says Neiss, are "less distressed because they learn how to control their emotions regardless of personality. If that's true, genetic influences don't make much of a difference."
What they found, through a study of fraternal and identical twins is that when a person is young, 32 percent of the differences in mood between peers can be linked to genetic effects. When they are older, however, the percent drops to zero. This, in theory, verifies the idea that adults learn to control their emotions.
Thus, any college student who visited the Student Showcase learned that they can, without reservation, blame their parents for how stressed they are.