Night of the living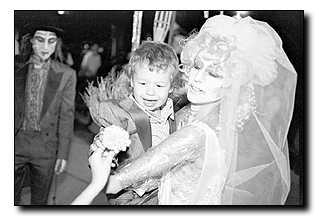 Joshua D. Trujillo
Arizona Daily Wildcat
Tucson resident Pia Mogollon and her two-year-old son Andrees show their spirit for Tucson's Dia de los Muertos Procession Saturday night. The procession made its way through the streets of downtown Tucson and ended with a fire dance in front of the Pima County Court building.
"Come on dead people, look alive," could be heard chanted among moans and wails from wild dancers in downtown Tucson's annual Dia de los Muertos parade Saturday night.
In honor and celebration of deceased family members and friends, Tucsonans adorned themselves in costumes of ghosts and ghouls.
Bicycles morphed into enchanted Chinese dragons and unorthodox musical instruments. The crowd, welcoming all walks of life to join, was led by several characters who towered over spectators and parade participants.
These animated ghouls - toting noise-makers, maracas and other festive instruments - overlooked the gala at heights of more than 10 feet above the flocks of masks, spirits and specters. Constructed of wooden and metal scaffolding covered in plaster, the characters were fastened to the backs of musicians and dancers who pranced alongside costumed men on stilts.
The procession made its way through the streets of downtown Tucson, stopping several times along the way to entertain the crowd and make traditional offerings to the dead.
The culminating event of the parade was a dance on the planks of fountains and patches of grass behind the Pima County Superior Court building.
Fire dancers introduced a sultry pyrotechnical show. They lured the audience with a dangerous tango lit only by the blazing pendulums swinging from their arms and later extended the dance at the former site of the Downtown Performance Center.