Arizona self destructs, again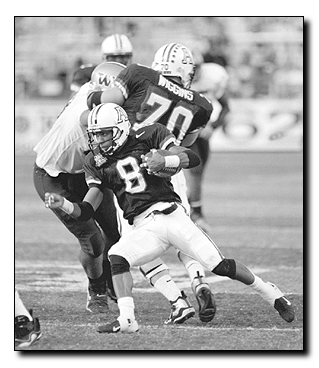 Ian C. Mayer
Arizona Daily Wildcat
UA senior wide receiver Dennis Northcutt makes his way through traffic during Saturday's 33-25 loss to Washington. Northcutt finished his career at Arizona Stadium with eight catches for 112 yards against the Huskies.
The Arizona Wildcats should feel lucky to still be standing.
After all, they shot themselves in the foot so many times in Saturday afternoon's 33-25 loss to Washington (6-3 overall, 5-1 Pacific 10 Conference) they're lucky there was anything left.
"It was a game of opportunities," UA senior wide receiver Dennis Northcutt said. "We had a lot of opportunities, we didn't execute well. We had turnovers in the green zone, a couple of interceptions. We just didn't play a complete game as a whole team. They did, they had the opportunities and they converted on them."
Arizona (6-4, 3-3) is now officially out of the Rose Bowl race and is still one win short of qualifying for a bowl game with games left at Oregon State and Arizona State.
"Right now as a team we can't even think about position," UA senior free safety Rafell Jones said. "We have to think about what went on here, correct the negatives, correct the mistakes and get back on track on Sunday."
The most crippling mistake may have been when senior running back Trung Canidate's 15-yard touchdown run early in the fourth quarter was called back because of a false start when there was a miscommunication between the players and the coaches.
"I'm getting tired of the word penalties," Canidate said after UA had 10 for 65 yards. "You know what, it was a busted call on our part. Us as players, we've got to be on our jobs. It cost us a touchdown. It cost us field position. Penalties and not scoring in the green zone, that was the whole key tonight. We turned the ball over, we penalized ourselves, they didn't. That's the story right there."
Another down note was that the Wildcats had only seven plays in the second quarter, two of which were interceptions.
"Keith (Smith) didn't seem quite in sync," UA head coach Dick Tomey said of his quarterback. "He had a couple of interceptions and that is very disconcerting for any quarterback."
The Huskies scored 19 points in the second quarter to Arizona's seven and led 19-10 at the half. The UA defense spent halftime figuring out how to stop the UW offense.
"First (half) they had us pretty much pegged," UA junior defensive tackle Joe Tafoya said. "The team that adjusts the best is the one that wins the game. In the second half we came out with the right adjustments and the right attitude. It seemed like we were invigorated, we stepped it up a little bit."
In the third quarter, UA held the Huskies scoreless while scoring on a 55-yard bomb from junior quarterback Ortege Jenkins to junior receiver Marvin Brown to make it 19-17.
But Canidate's called-back touchdown proved crucial, as the Huskies went on a methodical, 80-yard drive that took nine minutes, 13 seconds off the clock.
"We had the defensive coverage, we thought it was right on the money and they were able to come up with the plays better than we were able to defend the plays," Jones said, noting how UW converted five third downs en route to a touchdown that made it 26-17 with 4:14 left.
Three plays later Jenkins was intercepted by Anthony Vontoure, who returned it 29 yards for a touchdown. UA did manage a late touchdown and a two-point conversion, but by then things were out of reach.
"Basically, they came and took the game away from us," Canidate said. "We've got to move on from this anyway. Football is about pride and believing in yourself. We've still got two more games and we're trying to play three. We're playing for our season now, you're going to see the real players step up. You're going to see if we're together like we say we are."